I love John Boyne's writing. He's an author that cannot only craft an excellent story but write the most beautifully constructed sentences you will have to read a few times, just to experience the full appreciation of his writing.
In The Absolutionist, John creates yet another novel that will make you feel a full gamut of emotions. Although this was published back in 2012, John's work stands the test of time and I highly recommend you read this one, or any of his books.
Synopsis:
It is September 1919: twenty-one-year-old Tristan Sadler takes a train from London to Norwich to deliver a package of letters to the sister of Will Bancroft, the man he fought alongside during the Great War.

But the letters are not the real reason for Tristan's visit. He can no longer keep a secret and has finally found the courage to unburden himself of it. As Tristan recounts the horrific details of what to him became a senseless war, he also speaks of his friendship with Will – from their first meeting on the training grounds at Aldershot to their farewell in the trenches of northern France. The intensity of their bond brought Tristan happiness and self-discovery as well as confusion and unbearable pain.

The Absolutist is a masterful tale of passion, jealousy, heroism, and betrayal set in one of the most gruesome trenches of France during World War I. This novel will keep readers on the edge of their seats until its most extraordinary and unexpected conclusion, and will stay with them long after they've turned the last page.
Just prepare yourself, you will cry. Probably loud, sloppy sobbing.
"A story of immeasurable sadness…" John Irving
The book is going to have an enormous impact on everyone who reads it." Colm Tóibín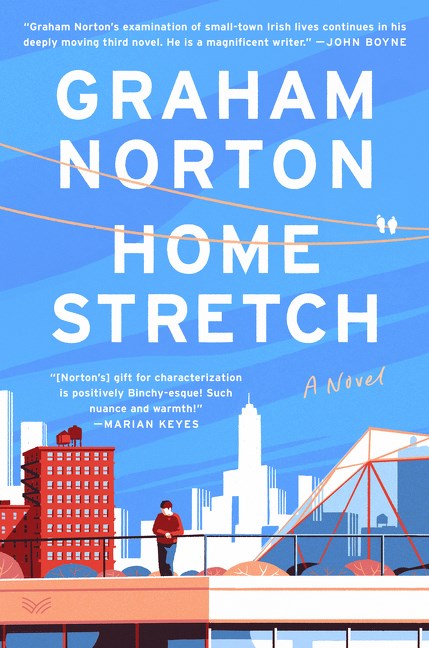 Once again, I find myself so impressed with Graham Norton's writing. I read and loved A Keeper, if you haven't read it, go get it now and read it at once.
In Home Stretch, he creates memorable characters and a heartbreaking event that haunts many people for years. This was fantastic. Its best to go into this book not knowing what exactly is going to happen other than what is told in the synopsis:
It is 1987 and a small Irish community is preparing for a wedding. The day before the ceremony, a group of young friends, including the bride and groom, are involved in an accident. Three survive. Three are killed.

The lives of the families are shattered and the rifts between them ripple throughout the small town. Connor survived, but living among the angry and the mourning is almost as hard as carrying the shame of having been the driver. He leaves the only place he knows for another life, taking his secrets with him. Traveling first to Liverpool, then London, he eventually makes a home—of sorts—for himself in New York, where he finds shelter and the possibility of forging a new life.

But the secrets—the unspoken longings and regrets that have come to haunt those left behind—will not be silenced. Before long, Connor will have to confront his past.
How devastating, these young people who lost their lives in a crash and the families left to pick up the pieces. But also heart-wrenching is what Connor has to live with, the secrets he carries. This is a must-read! It comes out in June so pre-order now so you don't forget.
This reminds me of a true crime podcast. Finding Tessa by Jaime Lynn Hendricks centers around a couple named Jace and Tessa. One night, Jace comes home to find his wife is gone. The scene he encounters points to a break-in but people think he was involved.
Tessa meanwhile, set her own husband up as the suspect. Now she is running away. But will she get away with what she's done?
Whew! What a phenomenal novel!
Check it out:
Jace and Tessa appear to be a young couple in love with nothing to hide. But looks can be deceiving.
When Jace Montgomery comes home late from entertaining clients, he discovers that his wife Tessa is missing. There's broken glass at the back door. Clumps of her hair. Blood. The cops in their small New Jersey town have him pegged as a suspect, especially after he explodes at a reporter during a press conference. Jace maintains his innocence despite the mounting evidence against him, but when a coworker he's accused of having an affair with also disappears and a search warrant turns up an illegal gun in Jace's home, all signs point to him as the culprit. What is he really hiding?

Meanwhile, Tessa finally feels safe, having set up her husband to take the fall for her disappearance—and someone close to him is helping her put him away. Breaking her lifelong pattern of bad men is only one hurdle she has to overcome. The other is outrunning her secret past while trying to stay alive, especially when those in her new life aren't who they appear to be.

Jace's lies don't add up and the authorities are closing in. Will Tessa's old life catch up to her and drag her back to a life of abuse before justice is served?
Brilliant, gripping, captivating!
This one needs a place on your TO READ list when it's published on May 11. Be sure to pre-order it today!
I liked How Lucky by Will Leitch from the opening pages and enjoyed the unusual main character of Daniel. I haven't read about a character quite like him in a long time, maybe never.  Daniel is observant, sarcastic, and has the job of deal with customer comments on social media for an airline company. It took a few chapters to realize that Daniel is in a wheelchair and doesn't talk.
He does the same thing every day and has his schedule detailed down to the minute. He sees the same people at the same times every single day, so when something unusual occurs, he pays special attention. Later he learns that the girl he sees from his window, has gone missing, he knows he might have valuable information. He saw her get into a tan Camaro and that was the last anyone has seen of her. Did he witness a kidnapping? And will anyone take him seriously?
Synopsis:
Daniel leads a rich life in the university town of Athens, Georgia.  He's got a couple close friends, a steady paycheck working for a regional airline, and of course, for a few glorious days each Fall, college football tailgates. He considers himself to be a mostly lucky guy—despite the fact that he's suffered from a debilitating disease since he was a small child, one that has left him unable to speak or to move without a wheelchair.

Confined to his home, Daniel spends the hours he's not online communicating with irate air travelers observing his neighborhood from his front porch. One young woman passes by so frequently that spotting her out the window has almost become part of his daily routine. Until the day he's almost sure he sees her being kidnapped.

How Lucky is the unforgettable story of a fiercely resilient young man grappling with a physical disability, and his efforts to solve a mystery unfolding right outside his door.
The story is told as if Daniel is addressing us, the readers. I thought this novel was so well written and enjoyable, I highly recommend it!
Coming on May 11!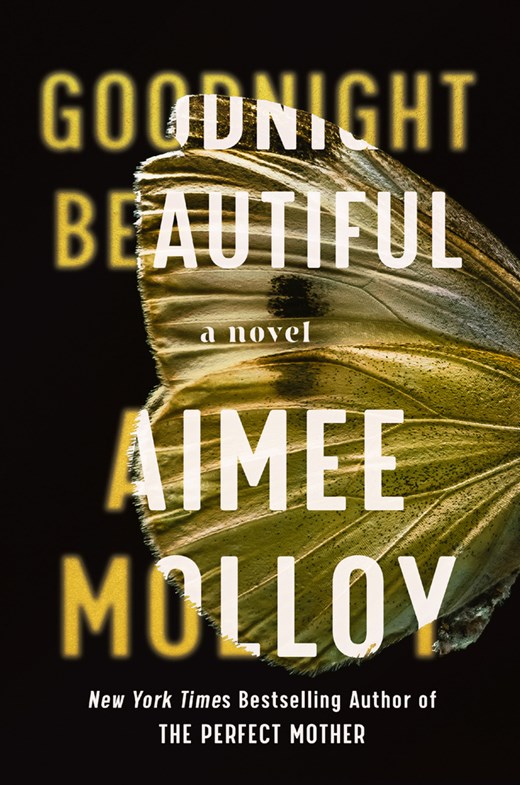 I wasn't sure what to expect with Goodnight Beautiful by Aimee Malloy and I am so rarely surprised by a novel, but WOW THIS WAS FANTASTIC!  I think this was a case of reading the right book at the right time! I was glued to the pages and loved the writing style, the plot, characters, everything was just hitting all the high notes for me.
Synopsis:
Newlyweds Sam Statler and Annie Potter are head over heels, and excited to say good-bye to New York and start a life together in Sam's sleepy hometown in upstate New York. Or, it turns out, a life where Annie spends most of her time alone while Sam, her therapist husband, works long hours in his downstairs office, tending to the egos of his (mostly female) clientele.

Little does Sam know that through a vent in his ceiling, every word of his sessions can be heard from the room upstairs. The pharmacist's wife, contemplating a divorce. The well-known painter whose boyfriend doesn't satisfy her in bed. Who could resist listening? Everything is fine until the French girl in the green mini Cooper shows up, and Sam decides to go to work and not come home, throwing a wrench into Sam and Annie's happily ever after.
This is the way you write a thriller! Lots of twists that you don't see coming, surprises that hit you in the face and keep you wanting more. I am already awaiting whatever this author writes next, especially if it's as good as this one.
Out now, go get a copy!
 I really liked The Downstairs Neighbor by Helen Cooper and if you are in the mood for a suspenseful novel, this is out now so go grab it! The story takes place now, when a teenager goes missing, and twenty-five years ago, when another young woman went missing.
The story kept me guessing, and I especially liked that there were things happening all the time in the story. The worst is when you read a mystery or suspense and the book is just slow with no action.
Here's the official synopsis:
From her downstairs apartment in suburban London, Emma has often overheard the everyday life of the seemingly perfect family upstairs–Steph, Paul and teenage daughter Freya–but has never got to know them. Until one day, she hears something that seizes her attention: Freya has vanished and the police are questioning Steph and Paul about their life. Do either of you have any enemies? Anyone who might want to harm or threaten you?

The effects of Freya's disappearance ripple outward, affecting not just her parents, but everyone who lives in the building, including Emma and local driving instructor Chris, who was the last person to see the teenager before she went missing. Each character's life is thrown into sharp focus as devastating mistakes and long-held secrets are picked apart and other crimes come to light–including a child gone missing 25 years before, and a shocking murder–that make clear that the past never stays where we leave it, and that homes can be built on foundations of lies.
I always like a good British mystery, and this one didn't disappoint. Out now!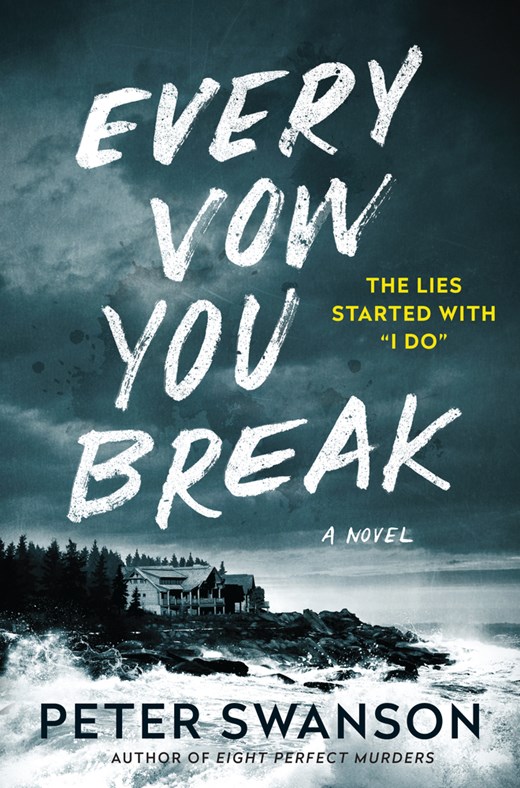 When I see that Peter Swanson has written a new book, I don't even need to know what it's about, I just know I have to read it. The only book I haven't read of his is the first book he wrote, though I do have a copy on my Kindle. The Kind Worth Killing, his second book, is one that I recommend ALL THE TIME. It was such incredible suspense and would make an excellent movie.
I just read Every Vow You Break and can't wait to tell you about it. I know my fellow suspense/mystery/thriller fans will be eager to get this one that comes out  soon, March 23!
Here's the plot:
Abigail Baskin never thought she'd fall in love with a millionaire. Then she met Bruce Lamb. He's a good guy, stable, level-headed, kind—a refreshing twist from her previous relationships.  But right before the wedding, Abigail has a drunken one-night stand on her bachelorette weekend. She puts the incident—and the sexy guy who wouldn't give her his real name—out of her mind, and now believes she wants to be with Bruce for the rest of her life.

Then the mysterious stranger suddenly appears—and Abigail's future life and happiness are turned upside down. He insists that their passionate night was the beginning of something much, much more. Something special. Something real—and he's tracked her down to prove it.

Does she tell Bruce and ruin their idyllic honeymoon—and possibly their marriage? Or should she handle this psychopathic stalker on her own? To make the situation worse, strange things begin to happen. She sees a terrified woman in the night shadows, and no one at the resort seems to believe anything is amiss… including her perfect new husband.
The writing is very good as usual, and I liked the characters and dialogue. As I always mention; I enjoy seeing a story I haven't seen a million times before and I don't think Ive read anything like this previously.
Fans of Peter's will devour this one!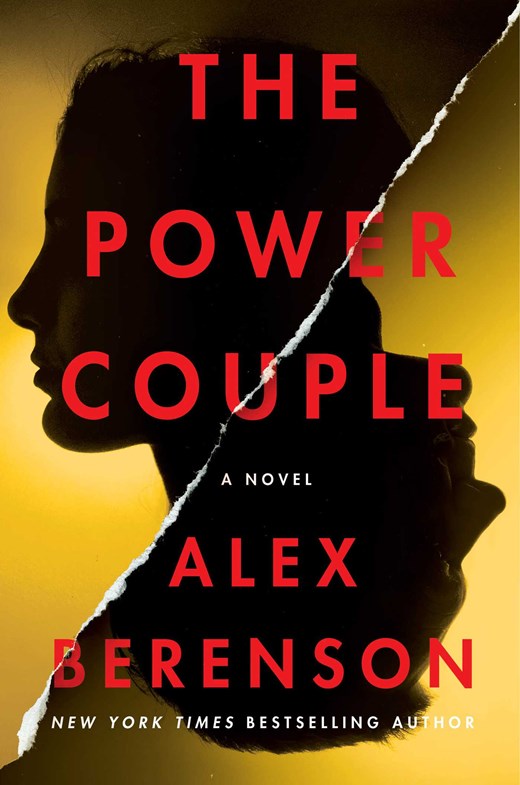 In The Power Couple by Alex Berenson, we get domestic suspense and kidnapping when a troubled couple takes their teenage children with them on a trip to Europe. Rebecca has been climbing the ladder at the FBI and has a demanding job while her husband Brian, works at National Security Agency. Yes, they have their issues, but for now, they are off on a vacation.
When their daughter is kidnapped one night, Brian and Rebecca launch into a desperate search. Who took her and why?  Slowly secrets are revealed…
Here's the official synopsis:
Rebecca and Brian Unsworth appear to have it all. A nice house in the suburbs of Washington, DC. Two well-behaved, healthy teenage children. Important government jobs—Rebecca working in counterterrorism for the Federal Bureau of Investigation, Brian serving as a coder for the National Security Agency. Their lives stand to improve even more as Brian, in his off-hours, has just developed and sold a highly profitable app.

However, the Unsworths' marriage isn't as perfect as it seems. After two decades together, they've drifted apart, talking little and having sex even less. Seeking to revive their strained relationship, they decide for their twentieth wedding anniversary to take their two kids, Kira and Tony, on a European getaway.

They have a blast…until one night in Barcelona when Kira doesn't come home from a dance club. She's gone. Abducted. Over the course of a single weekend, the Unsworths will do everything possible to find her—as Kira herself discovers just how far she'll go to break free of the trap that's been set for her. And even as Rebecca and Brian come together for Kira, they realize their marriage is more tenuous than they realized.
The book is written in several parts, with different points of view. I thought it was suspenseful and action-packed, I really enjoyed it! I am looking forward to reading more from Alex Berenson.
This is out now!