Florence Adler Swims Forever by Rachel Beanland was inspired by Rachel's own family history. I love it when a book has roots in history especially when it's personal. I have nothing but great things to say about this beautifully written story. I know you aren't supposed to judge a book by its cover but let's pause a second and admire this incredible cover that both simple and beautiful!
I have several friends who read this book, and everyone has enjoyed it. I cannot recommend it enough.
Take a look at the plot:
Atlantic City, 1934. Every summer, Esther and Joseph Adler rent their house out to vacationers escaping to "America's Playground" and move into the small apartment above their bakery. Despite the cramped quarters, this is the apartment where they raised their two daughters, Fannie and Florence, and it always feels like home.

Now Florence has returned from college, determined to spend the summer training to swim the English Channel, and Fannie, pregnant again after recently losing a baby, is on bedrest for the duration of her pregnancy. After Joseph insists they take in a mysterious young woman whom he recently helped emigrate from Nazi Germany, the apartment is bursting at the seams.

Esther only wants to keep her daughters close and safe but some matters are beyond her control: there's Fannie's risky pregnancy—not to mention her always-scheming husband, Isaac—and the fact that the handsome heir of a hotel notorious for its anti-Semitic policies, seems to be in love with Florence.

When tragedy strikes, Esther makes the shocking decision to hide the truth—at least until Fannie's baby is born—and pulls the family into an elaborate web of secret-keeping and lies, bringing long-buried tensions to the surface that reveal how quickly the act of protecting those we love can turn into betrayal.
This is available right now! Get it for your kindle and start reading it today, go here to buy it!

True Story by Kate Reed Petty grabbed me right away. I especially like a premise I haven't seen before. It seems like we've all read the same plots a million times and I appreciate a fresh story done in a way I have never read.
One night will affect the next decade of Alice's life. A party. Something happens. What's real? What's the true story? Who do you believe? Can you rely on your own memory?
Check it out:
A gifted and reclusive ghostwriter, Alice Lovett makes a living helping other people tell their stories. But she is haunted by the one story she cannot tell: the story of, as she puts it, "the things that happened while I was asleep."

Back in 1999, Nick Brothers and his high school lacrosse team return for their senior year in a well-to-do Baltimore suburb as the reigning state champs. The afterglow of their big win is bound to last until graduation; not even the pressure of college applications can get in the way of their fun. But when a private school girl attempts suicide in the wake of one of the team's "legendary" parties, and a rumor begins to circulate that two of Nick's teammates sexually assaulted her, it seems like it might ruin everything–until the team circles the wagons, casts doubt on the story, and the town moves on.

But not everyone does. Fifteen years later, four people–Alice, Nick, a documentary filmmaker, and a wealthy entrepreneur–remain haunted by the roles they played, the things they still don't understand, and how the story has shaped their lives. In sections told from different points of view, each more propulsive than the last, the layers of mystery are gradually peeled back as we barrel toward the truth of what really happened that night . . . and what came after. At once a compulsive page-turner and a thought-provoking exploration of issues both timely and timeless, True Story marks the debut of a phenomenal new voice in fiction.
I think those who enjoy suspense/mystery/thrillers will want to read this book. Its definitely one that makes you think.
True Story will be out on August 4. Can you believe its already August??
Out now, Saving Ruby King by Catherine Adel West.  In the south side of Chicago, young Ruby is left with her abusive father after her mother dies. Heavy, right? Ruby's best friend Layla wants to help but her own father, a pastor, tells his daughter to stay away from Ruby.
What a premise! This is a contemporary Young Adult with a definite suspense undertone. The writing is terrific; the story is timely, and you will be pulled into this book right away. Saving Ruby Kind is not to be missed.
The plot:
When Ruby King's mother is found murdered in their home in Chicago's South Side, the police dismiss it as another act of violence in a black neighborhood. But for Ruby, it means she'll be living alone with her violent father. The only person who understands the gravity of her situation is Ruby's best friend, Layla. Their closeness is tested when Layla's father, the pastor of their church, demands that Layla stay away. But what are his true motives? And what is the price for turning a blind eye?

In a relentless quest to save Ruby, Layla comes to discover the murky loyalties and dark secrets tying their families together for three generations. A crucial pilgrimage through the racially divided landscape of Chicago, Saving Ruby King traces the way trauma is passed down through generations and the ways in which communities can come together to create sanctuary.

Saving Ruby King is an emotional and revelatory story of race, family secrets, faith and redemption. This is an unforgettable debut novel from an exciting new voice in fiction and a powerful testament that history doesn't determine the present, and that the bonds of friendship can forever shape the future.
You can start reading this book right now. Get it here!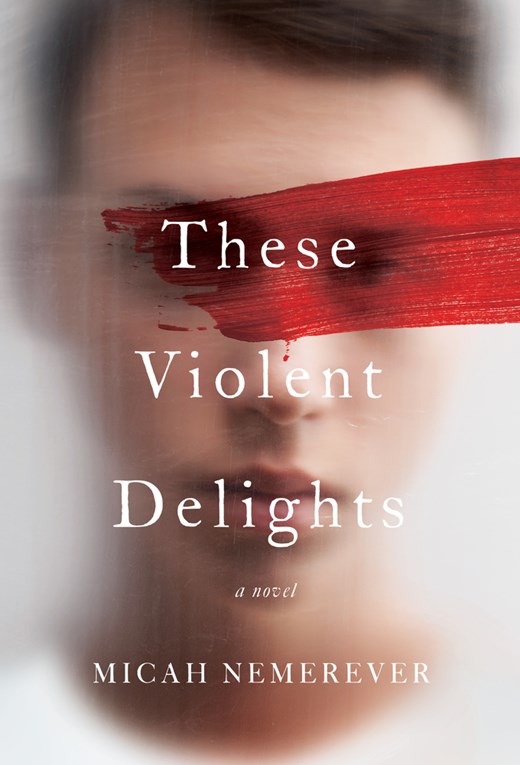 The cover of The Violent Delights by Micah Nemerever sparked my interest. Then I read the plot and knew it was a book I had to read.
And check out these accolades:
An O Magazine.com LGBTQ Book That Is Changing the Literary Landscape in 2020 
• An Electric Lit Most Anticipated Debut of the Second Half of 2020
• A The Millions Most Anticipated Book of the Year 
• A Paperback Paris Best New LGBTQ+ Books To Read This Year Selection
Reading further, I knew I'd like this book thanks to the comparisons between The Secret History and Call Me by Your Name.  It takes place in the 1970's, which isn't an era we see a lot of in books and its perfectly atmospheric and detailed, placing you right in Pittsburgh.
When Paul and Julian meet, they have an instant connection. Paul is from a working-class family, he is sensitive and timid, while Julian is more outgoing and charismatic. Though they seem like opposites, their connection is intense, obsessive as you can tell, maybe not so healthy.
This is a recipe for heartbreak.
Take a look:
When Paul and Julian meet as university freshmen in early 1970s Pittsburgh, they are immediately drawn to one another. A talented artist, Paul is sensitive and agonizingly insecure, incomprehensible to his working-class family, and desolate with grief over his father's recent death.

Paul sees the wealthy, effortlessly charming Julian as his sole intellectual equal—an ally against the conventional world he finds so suffocating. He idolizes his friend for his magnetic confidence. But as charismatic as he can choose to be, Julian is also volatile and capriciously cruel. And admiration isn't the same as trust.

As their friendship spirals into an all-consuming intimacy, Paul is desperate to protect their precarious bond, even as it becomes clear that pressures from the outside world are nothing compared with the brutality they are capable of inflicting on one another. Separation is out of the question. But as their orbit compresses and their grip on one another tightens, they are drawn to an act of irrevocable violence that will force the young men to confront a shattering truth at the core of their relationship.
A dark, intense story that you will long remember after finishing it! Hard to believe its a debut novel, I wish I could write with the brilliance of Micah Nemerever!
This comes out in September and you can pre-order it here.
The Girl in the Mirror by Rose Carlyle was a fast-paced story that left me in awe. It was SO GOOD.
Though twins Iris and Summer are almost identical,  Iris is considered "weird" and lives in her sister's shadow. Summer has everything, including a sexy, handsome husband named Adam, and a cute stepson. When she begs Summer to come to Thailand to help sail their yacht to Seychelles, Iris can't refuse. She's always been an expert sailor.
But one night, Summer goes missing. Viewing camera footage, Iris sees that Summer has gone overboard. She seizes the opportunity to step into Summer's shoes and pretend to her her popular, successful sister. Adam believes Iris is really Summer, but privately, he isn't what Iris imagined. Plus, she has Adam's family and his son to contend with. And how will she fool her own mother? And brother? What if someone figures out she isn't Summer, but Iris?
Take a look:
Twin sisters Iris and Summer are startlingly alike, but beyond what the eye can see lies a darkness that sets them apart. Cynical and insecure, Iris has long been envious of Summer's seemingly never-ending good fortune, including her perfect husband Adam.

Called to Thailand to help her sister sail the family yacht to the Seychelles, Iris nurtures her own secret hopes for what might happen on the journey. But when she unexpectedly finds herself alone in the middle of the Indian Ocean, everything changes. When she makes it to land, Iris allows herself to be swept up by Adam, who assumes that she is Summer.

Iris recklessly goes along with his mistake. Not only does she finally have the golden life she's always envied, with her sister gone, she's one step closer to the hundred-million-dollar inheritance left by her manipulative father. All Iris has to do is be the first of his seven children to produce an heir.

Iris's "new" life lurches between glamorous dream and paranoid nightmare. On the edge of being exposed, how far will she go to ensure no one discovers the truth?

And just what happened to Summer on the yacht?
I loved the setting of the yacht for part of the story, I felt so paranoid about nervous about how Iris was going to pull it off. I was so into this book I read it within a 24 hour period. It was exactly what you want a suspense novel to be with twists and turns and confusion and surprises including an ending that left me saying, "WHAT!"
This doesn't come out until October, but you can pre-order it now. You don't want to miss this!
Michael Robotham is an author who always delivers on a tight, well written, suspenseful read! When She Was Good is his latest and is a continuation of Good Girl, Bad Girl, which I read and enjoyed.
Cyrus is a forensic criminal psychologist whose family was murdered. He carries that pain around, as you would imagine. In Good Girl, Bad Girl, readers met Evie, a girl with a dark and unknown past,  who possesses the uncanny gift of knowing when someone is lying. She lives at a children's home named Langford Hall.
Now Cyrus wants to figure out Evie's past and why a certain man is looking for her. Beware that this story goes into some bleak places like sex trafficking and abuse. We go between past and present as Cyrus tries to put the pieces of Evie's life together.
Take a look:
Criminal psychologist Cyrus Haven and Evie Cormac return in this mesmerizing new thriller from internationally bestselling author Michael Robotham, a writer Stephen King calls "an absolute master…with heart and soul."

Who is Evie, the girl with no past, running from? She was discovered hiding in a secret room in the aftermath of a terrible crime. Her ability to tell when someone is lying helped Cyrus crack an impenetrable case in Good Girl, Bad Girl. Now, the closer Cyrus gets to uncovering answers about Evie's dark history, the more he exposes Evie to danger, giving her no choice but to run. Ultimately, both will have to decide if some secrets are better left buried and some monsters should never be named.
The plot, the tension, suspense, its all done so well. I was riveted while reading this book and left wanting more. Definitely not an easy, light, fun book to read, but if you can handle the heavy, dark stuff, you might want to get this book.
Available right now, you can read this today! Go here for the Kindle version.
Amazing author Hank Phillipi Ryan's new book is The First to Lie and you will want to read it!
SUCH A GREAT BOOK! She is a fantastic author.
If you are into the themes of deceit, revenge, justice, ethics, and into pharmaceutical companies, secrets, and lies combined with twists and turns, then this is the book for you. Honestly, go into this not knowing much so it can surprise you and you can be fully engaged.
Here's a little synopsis:
After a devastating betrayal, a young woman sets off on an obsessive path to justice, no matter what dark family secrets are revealed. What she doesn't know—she isn't the only one plotting her revenge.
Everything about this story was perfect. I love a book that takes hold of me and refuses to let go.
This comes out on August 4 and you can pre-order it here!
And…you can grab a copy of my novel, Run Delia Run, by going here! 
Let's be friends on Instagram!