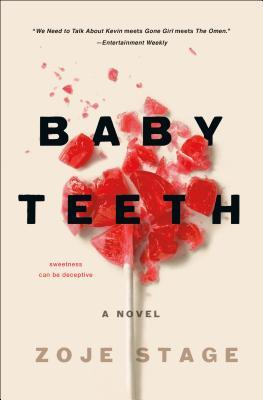 Do you think your kids are bad? Just get a load of the child in Baby Teeth by Zoje Stage! I was hooked on this story. It's creepy and twisted. A must-read for fans of horror and crime.
Meet Hanna. She's the sweet-but-silent angel in the adoring eyes of her Daddy. He's the only person who understands her, and all Hanna wants is to live happily ever after with him. But Mommy stands in her way, and she'll try any trick she can think of to get rid of her. Ideally for good.

Meet Suzette. She loves her daughter, really, but after years of expulsions and strained homeschooling, her precarious health and sanity are weakening day by day. As Hanna's tricks become increasingly sophisticated, and Suzette's husband remains blind to the failing family dynamics, Suzette starts to fear that there's something seriously wrong, and that maybe home isn't the best place for their baby girl after all.
Another dark and creepy story with an unreliable narrator who takes things a bit too far…Our Kind of Cruelty by Araminta Hall was disturbing and suspenseful.
Mike Hayes fought his way out of a brutal childhood and into a quiet, if lonely life, before he met Verity Metcalf. V taught him about love, and in return, Mike has dedicated his life to making her happy. He's found the perfect home, the perfect job, he's sculpted himself into the physical ideal V has always wanted. He knows they'll be blissfully happy together.

It doesn't matter that she hasn't been returning his emails or phone calls. It doesn't matter that she says she's marrying Angus. It's all just part of the secret game they used to play. If Mike watches V closely, he'll see the signs. If he keeps track of her every move he'll know just when to come to her rescue…

A spellbinding, darkly twisted novel about desire and obsession, and the complicated lines between truth and perception, Our Kind of Cruelty introduces Araminta Hall, a chilling new voice in psychological suspense.
I don't know how author Caroline Kepnes managed to write a book about a sympathetic murderer but that's what you find in Joe, the main character in YOU. Though the show was really good, I highly recommend reading the book, plus Hidden Bodies, the continuation of Joe's story.
When a beautiful aspiring writer strides into the East Village bookstore where Joe Goldberg works, he does what anyone would do: he Googles the name on her credit card.

There is only one Guinevere Beck in New York City. She has a public Facebook account and Tweets incessantly, telling Joe everything he needs to know: she is simply Beck to her friends, she went to Brown University, she lives on Bank Street, and she'll be at a bar in Brooklyn tonight—the perfect place for a "chance" meeting.

As Joe invisibly and obsessively takes control of Beck's life, he orchestrates a series of events to ensure Beck finds herself in his waiting arms. Moving from stalker to boyfriend, Joe transforms himself into Beck's perfect man, all while quietly removing the obstacles that stand in their way—even if it means murder.
I was completely captivated by The Kind Worth Killing by Peter Swanson and since this fantastic novel he has written more but this one remains my favorite. The whole time I was reading it, I kept imagining this book as a movie.
On a night flight from London to Boston, Ted Severson meets the stunning and mysterious Lily Kintner. Sharing one too many martinis, the strangers begin to play a game of truth, revealing very intimate details about themselves. Ted talks about his marriage that's going stale and his wife Miranda, who he's sure is cheating on him. Ted and his wife were a mismatch from the start—he the rich businessman, she the artistic free spirit—a contrast that once inflamed their passion, but has now become a cliché.

But their game turns a little darker when Ted jokes that he could kill Miranda for what she's done. Lily, without missing a beat, says calmly, "I'd like to help." After all, some people are the kind worth killing, like a lying, stinking, cheating spouse. . . .

Back in Boston, Ted and Lily's twisted bond grows stronger as they begin to plot Miranda's demise. But there are a few things about Lily's past that she hasn't shared with Ted, namely her experience in the art and craft of murder, a journey that began in her very precocious youth.

Suddenly these co-conspirators are embroiled in a chilling game of cat-and-mouse, one they both cannot survive . . . with a shrewd and very determined detective on their tail.
Out of all the books here, this is probably the least dark and chilling and the most suspenseful!
I loved The Stranger Diaries by Elly Griffiths for not only the story but her writing which contained subtle humor. If a book can make me laugh and cringe…its a winner.
Clare Cassidy is no stranger to murder. A high school English teacher specializing in the Gothic writer R. M. Holland, she teaches a course on it every year. But when one of Clare's colleagues and closest friends is found dead, with a line from R. M. Holland's most famous story, "The Stranger," left by her body, Clare is horrified to see her life collide with the storylines of her favourite literature.

To make matters worse, the police suspect the killer is someone Clare knows. Unsure whom to trust, she turns to her closest confidant, her diary, the only outlet she has for her darkest suspicions and fears about the case. Then one day she notices something odd. Writing that isn't hers, left on the page of an old diary: "Hallo, Clare. You don't know me."

Clare becomes more certain than ever: "The Stranger" has come to terrifying life. But can the ending be rewritten in time?
And this one is coming soon:
If you love a chilling, creepy, dark suspense with horror elements and solid writing, Theme Music by T. Marie Vandelly is for you! The book starts out with Dixie Wheeler finding out that her childhood home is for sale. The only problem is that her entire family was murdered by her father in a gruesome fashion when she was just a baby. The author spares no details in describing how the murder went down and talks about the bone-chilling and horrific crime scene so consider yourself warned. I kind of skimmed over those parts because they are really disgusting.
Dixie's boyfriend refuses to move in with her and the fact she insists on moving into this house of horrors causes a rift between them. Her aunt refuses to step foot in the house too. With Dixie alone in the supposedly haunted house, she hears things, sees things and experiences what I think were hallucinations but I was never sure what was happening to her. She drank to escape the pain of being spared when her family was murdered and has survivor's guilt.
When she learned her now deceased uncle saved all the family's belongings and kept them in storage, she recreates almost an identical replica of the house when the slaughters occurred right down to the pictures on the wall.
Dixie hopes that by living in the house, she will come up with answers as to why her father suddenly killed everyone but living there causes Dixie more anguish than answers.  As she searches for the reasons why her brothers and mother were murdered, she starts learning things were not quite as they seemed.
Here's the official plot:
For the lucky among us, life is what you make of it, but for Dixie Wheeler, the theme music for her story was chosen by another long ago, on the day her father butchered her mother and brothers and then slashed a knife across his own throat. Only one-year-old Dixie was left alive, infamously known as Baby Blue for the song left playing in the aftermath of the slaughter.

Twenty-five years later, Dixie is still desperate for a connection to the family she can't remember, so when her childhood home goes up for sale, Dixie sets aside all reason and moves in, re-creating a macabre decor with her family's salvaged furniture. But as the ghosts of her family seemingly begin to take up residence in the home that was once theirs, Dixie starts to question her own sanity and wonders if the evil force menacing her is that of her father, or a demon of her own making.

In order to make sense of her present, Dixie becomes determined to unravel the truth of her past and seeks out the detective who originally investigated the murders. But the more she learns, the more she opens up the uncomfortable possibility that the sins of her father may belong to another, and, perhaps most tragically, to Dixie herself. As bodies begin to pile up around her, Dixie must find a way to expose the lunacy behind her family's massacre and redeem what little remains of her soul.
The writing of the book is really good, I kept turning the pages to see how this was going to conclude. I did skim over the gory descriptions of the crime scene photos with how the butchering of Dixie's family was photographed and I did find myself skimming over her weird hallucinations too.  Other than that, I was hooked on finding out the truth about what happened on that fateful morning. I wanted Dixie to go to therapy and seek help for her many issues.
I think fans of the books I mentioned above will love this novel. I will be looking forward to anything else the author writes.
Book comes out on July 23.
***