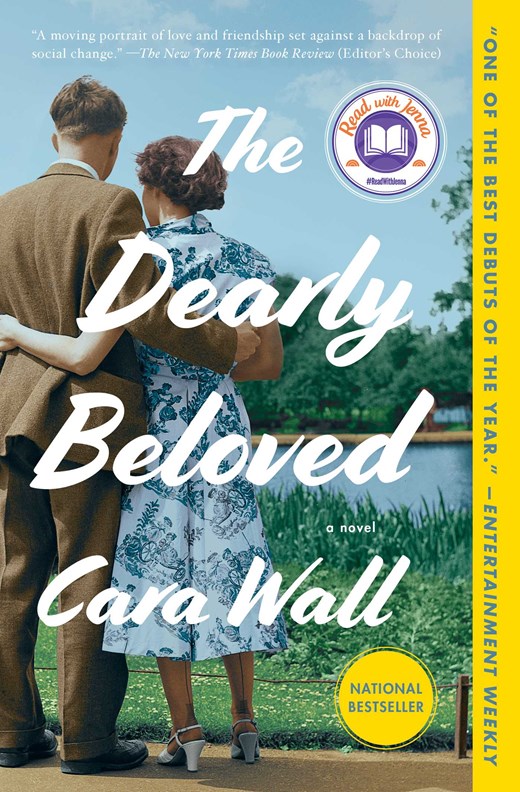 The Dearly Beloved by Cara Wall was a Read With Jenna Book Club pick and has received many glowing reviews.  Its beautifully written and explores so many themes of life such as faith, friendship, parenthood, and gives you much to think about long after you finish reading.
"This gentle, gorgeously written book may be one of my favorites ever." —Jenna Bush Hager 
Check out the premise:
Charles and Lily, James and Nan. They meet in Greenwich Village in 1963 when Charles and James are jointly hired to steward the historic Third Presbyterian Church through turbulent times. Their personal differences however, threaten to tear them apart.

Charles is destined to succeed his father as an esteemed professor of history at Harvard, until an unorthodox lecture about faith leads him to ministry. How then, can he fall in love with Lily—fiercely intellectual, elegantly stern—after she tells him with certainty that she will never believe in God? And yet, how can he not?

James, the youngest son in a hardscrabble Chicago family, spent much of his youth angry at his alcoholic father and avoiding his anxious mother. Nan grew up in Mississippi, the devout and beloved daughter of a minister and a debutante. James's escape from his desperate circumstances leads him to Nan and, despite his skepticism of hope in all its forms, her gentle, constant faith changes the course of his life.
This novel came out last year so you can read it right now. I think its one that is perfect for reading on a quiet day with a cup of tea by your side.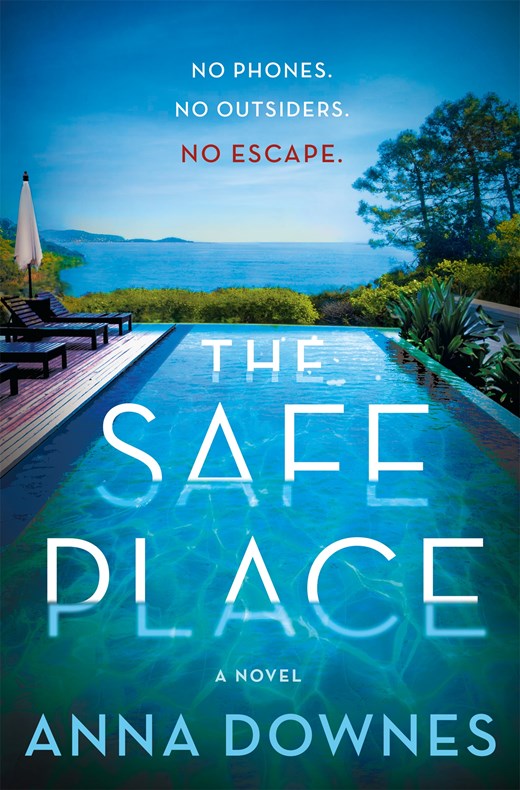 The Safe Place by Anna Downes was an enjoyable read! I thought it would be more of a thriller, but it's more of women's fiction with a thread of suspense running through.
Right away we feel bad for Emily, who lost everything in the span of a day. Desperate and with nothing to call her own, she eagerly takes the position as a housekeeper in a gorgeous but remote house.  At first, this seems like a dream job, but it's not long before Emily learns that this incredible job isn't what she thought- at all.  No internet? No connection with the outside world? She's away from everything and everyone with no ability to leave.
What is this family hiding and why?
Synopsis:
Emily is a mess. Emily Proudman just lost her acting agent, her job, and her apartment in one miserable day.  Emily is desperate. Scott Denny, a successful and charismatic CEO, has a problem that neither his business acumen nor vast wealth can fix. Until he meets Emily.  Emily is perfect. Scott offers Emily a summer job as a housekeeper on his remote, beautiful French estate. Enchanted by his lovely wife Nina, and his eccentric young daughter, Aurelia, Emily falls headlong into this oasis of wine-soaked days by the pool. But soon Emily realizes that Scott and Nina are hiding dangerous secrets, and if she doesn't play along, the consequences could be deadly. Superbly tense and oozing with atmosphere, Anna Downs's debut is the perfect summer suspense, with the modern gothic feel of Ruth Ware and the morally complex family dynamics of Lisa Jewell.

Welcome to paradise…will you ever be able to leave?
I went into this thinking it would be really dark but it's not scary or super nerve-wracking.  A work of fiction, (obviously) there is a thread of suspense running through it.  The Safe Place will keep you intrigued and entertained from beginning to end!
Coming on July 14, order here!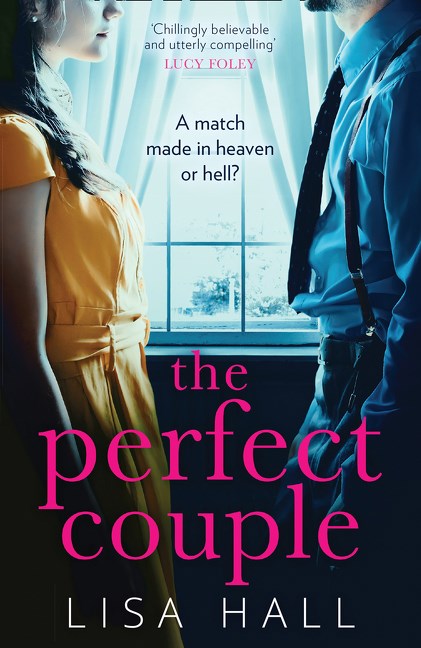 The Perfect Couple by Lisa Hall was fantastic! I was hooked from page 1. What I liked was the author's writing style, and the story kept me reading quickly to see what would happen next!
Take a look:
When Anna applies to a job as a housekeeper for wealthy widow Nick, it's a chance to start over – steady job, regular money means she can work towards her own place, not sharing a grimy flatshare with old mate, Mel.

As Anna gets to know more about Nick's world – how likes his supper when he comes in from work, who his friends are – she can make sure everything is just as he wants it.

And soon there's a spark of chemistry between them. Nick likes having Anna around, and one evening invites her to stay…

There's just the small issue of what actually happened to his first wife… A gripping, razor-sharp game of cat and mouse, from the bestselling author, Lisa Hall.
This is perfectly twisty and will keep you on your toes as you read. I just love books like this one that keep you reading with a smooth style and keep you guessing with surprises. Highly recommended!
I was so outrageously excited to read The Last Wife by Karen Hamilton after I read and loved her novel, The Perfect Girlfriend! Once I find an author whose books I like, I will check to see what they are writing next and how soon can I read it. You will find me on Goodreads every day looking up future books!
Check it out:
Nina and Marie were best friends—until Nina was diagnosed with a terminal illness. Before she died, Nina asked Marie to fulfill her final wishes.

But her mistake was in thinking Marie was someone she could trust.  What Nina didn't know was that Marie always wanted her beautiful life, and that Marie has an agenda of her own. She'll do anything to get what she wants. Marie thinks she can keep her promise to her friend's family on her own terms. But what she doesn't know is that Nina was hiding explosive secrets of her own…
This was an excellent book!
I like Karen's writing style and everything I look for a  novel such as plot-pacing-characters-dialogue was pitch-perfect. Now I want/need to get my hands on whatever this author writes next! I can't wait. If you haven't read The Perfect Girlfriend, get it and read it right away, you won't be sorry.
Coming out on July 7, pre-order now.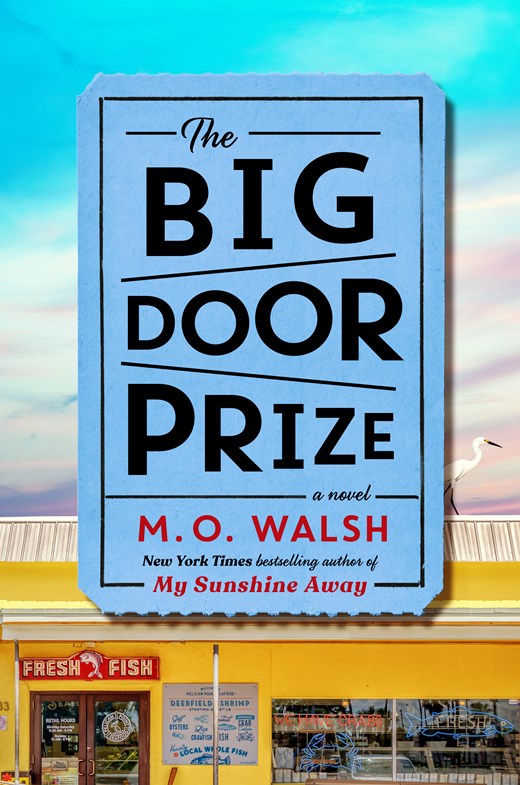 Imagine a machine that would quickly, easily, and painlessly read your DNA and tell you your potential? Imagine knowing that you could accomplish amazing things? Dream your biggest dreams because you can fulfill them. WHAT IF? That's the premise of The Big Door Prize by M.O. Walsh. As I always do, I loved the small-town setting. In this book, the story takes place in Deerfield, Louisiana.
This book isn't centered on the actual machine, but a few key characters.
Synopsis:
What would you do if you knew your life's potential? That's the question facing the town of Deerfield, Louisiana, when an unusual new contraption appears in their local grocery store. The DNAMIX machine is nothing to look at, really–it resembles a plain photo booth. But its promise is amazing: with just a quick swab of your cheek and two dollars, the device will use the science of your DNA to tell you your life's potential. Soon the former teachers, nurses, and shopkeepers of the town are upending their lives to pursue their destinies as magicians, cowboys, and queens–including Douglas Hubbard and his wife, Cherilyn, who both believed they were leading perfectly happy lives until they realized they could dream for more…
This book is charming and fun, the story flows well and since I love quirky characters and small towns, this was an enjoyable read for me.
Coming out on September 8, pre-order here!
They Did Bad Things by Lauren A. Forry is described as And Then There Were None meets The Last Time I Lied and with comparisons like those, how can you not want to read this novel? If you like creepy novels with secrets and a little horror, then you need to get this book immediately. Six college roommates, one death. Who did it? Twenty years later, they are brought back together and well…you have to read it.
There are multiple timelines and characters so you have to pay close attention.
Here is the premise:
In 1995, six university students moved into the house at 215 Caldwell Street. Months later, one of them was found dead on the sofa the morning after their end-of-year party. His death was ruled an accident by the police. The remaining five all knew it wasn't, and though they went on with their lives, the truth of what happened to their sixth housemate couldn't stay buried forever.

Twenty years later, all five of them arrive—lured separately under various pretenses—at Wolfheather House, a crumbling, secluded mansion on the Scottish isle of Doon. Trapped inside with no way out and no signal to the outside world, the now forty-somethings fight each other—and the unknown mastermind behind their gathering—as they confront the role they played in their housemate's death. They are given one choice: confess to their crimes or die.
The cover of the book is so eye-catching, I have to point that out! And then the plot is intriguing. The book was a thrill ride of suspense!
Get this now and started reading today!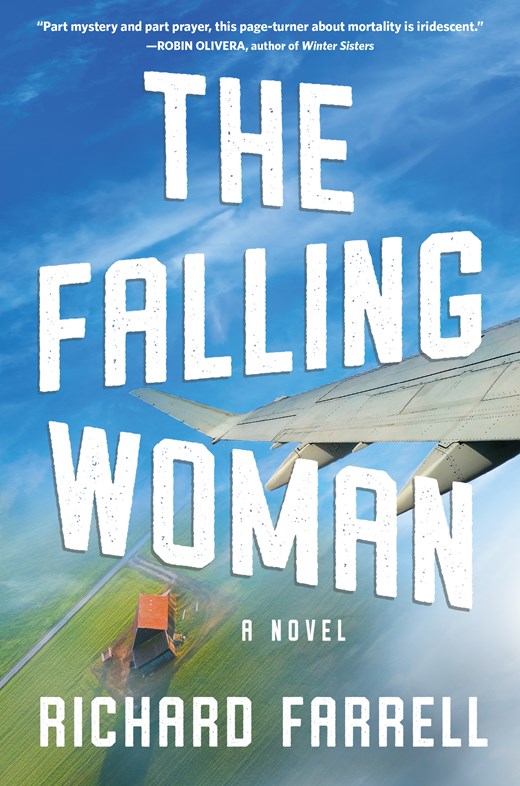 The Falling Woman by Richard Farrell is another plane crash story- did you read Dear Edward, a book about the survivor of a plane crash?
Take a look at the plot here:
Tragedy strikes during a cross-country flight when sudden turbulence causes the jet to come apart in midair. The odds of anyone surviving are nearly impossible. Charlie Radford, a young National Transportation Safety Board investigator, is part of the team sent to determine what caused the crash. When he hears a rumor of a survivor, he assumes it is a hoax. As word of this "miracle" reaches the media and Congress, Radford is forced to track down "the falling woman," said to have been found in a barn still strapped to her seat.

The woman at the center of the mystery, Erin Geraghty, was facing a losing battle with cancer when she embarked on her flight. With diminishing hope of a full recovery, she had considered herself essentially dead to her loved ones. Now, after the plane crash, she is intent on remaining dead to the world and to her family, to live out her final days in peace. And then Agent Radford arrives at her doorstep. Can he convince her to come forward, and does he have any right to?
The Falling Woman is a pretty quick read. The author is so talented, I always appreciate well-crafted sentences and beautiful writing. As with Dear Edward, the idea of being the sole survivor of a plane crash is interesting and thought-provoking. What makes the story special is the characters of Charlie, the investigator and Erin, the woman who survives the crash. This is an enjoyable story and one that I won't soon forget.
Read it now, get the Kindle version here!
Friends and Strangers by J. Courtney Sullivan is the July pick Read with Jenna Book Club! I'm a big fan of author J. Courtney Sullivan and if you haven't read her novel, Maine, do it now because it's very good!
In Friends and Strangers, we witness the relationship between Elisabeth a new mother in a small town and Sam, a college student hired to babysit Elisabeth's son. Elisabeth is trying to deal with her new setting, coming from Brooklyn, the suburbs differ vastly from the city, so right away we know she has challenges. She is also trying to write a novel. Yikes!  Throw in the fact that she's a new mother and things get more complicated. And then when you add in a babysitter in the form of Sam, a poor college student, its a recipe for a lot of conflict and has the potential to be a catalyst for big changes.
Check it out:
Elisabeth, an accomplished journalist and new mother, is struggling to adjust to life in a small town after nearly twenty years in New York City. Alone in the house with her infant son all day (and awake with him much of the night), she feels uneasy, adrift. She neglects her work, losing untold hours to her Brooklyn moms' Facebook group, her "influencer" sister's Instagram feed, and text messages with the best friend she never sees anymore. Enter Sam, a senior at the local women's college, whom Elisabeth hires to babysit. Sam is struggling to decide between the path she's always planned on and a romantic entanglement that threatens her ambition. She's worried about student loan debt and what the future holds. In short order, they grow close. But when Sam finds an unlikely kindred spirit in Elisabeth's father-in-law, the true differences between the women's lives become starkly revealed and a betrayal has devastating consequences.
The writing is so good in this story. The reader feels compassion and understanding for Sam. The struggles of life and challenges of motherhood are captured so well by Elisabeth.  We see the theme of friendship play out beautifully here.  Loved it.