I began Our House by Louise Candlish liking it well enough, but as I got further into the book I started LOVING it. I couldn't put it down which as you know is the hallmark of a fantastic story.
What would you do if arriving home from a trip, all of your furniture was gone and a whole new family had moved into your home? That's how this book begins but as the story progresses we learn not everything as it seems. I am almost done with Our House and I think I might know what happens but with this type of suspense you never know…
Here's the official synopsis:
When Fiona Lawson comes home to find strangers moving into her house, she's sure there's been a mistake. She and her estranged husband, Bram, have a modern coparenting arrangement: bird's nest custody, where each parent spends a few nights a week with their two sons at the prized family home to maintain stability for their children. But the system built to protect their family ends up putting them in terrible jeopardy. In a domino effect of crimes and misdemeanors, the nest comes tumbling down.

Now Bram has disappeared and so have Fiona's children. As events spiral well beyond her control, Fiona will discover just how many lies her husband was weaving and how little they truly knew each other. But Bram's not the only one with things to hide, and some secrets are best kept to oneself, safe as houses.
Louise Candlish is an author I have never heard about before this novel, but she has written several books and I am going to check them out. Our House is due out in August, however, take a look at The Swimming Pool which is ready to read right now.
This book would make an excellent movie. How can I be a scout for film? So many books have the potential to be brilliant films or even a mini-series and this is one of them.
Okay so if Lisa Unger says right there on the cover that The Real Michael Swann is a "chilling, haunting read" then I think I need to read it! I can't wait to get started on this book.  I admire authors who can pull off a tight plot while keeping the threads of suspense tightly woven throughout a compelling story!
Take a look: 
On a typical late summer day, Julia Swann is on the phone with her husband, Michael, when the call abruptly goes dead. Then the news rolls in: A bomb has gone off at Penn Station, where Michael was waiting for a train home. New York City is in a state of chaos.

A frantic Julia races to the city to look for Michael, her panic interwoven with memories of meeting and falling in love with the husband she's now desperate to find. When someone finds a flier she's posted and tells her they may have seen her husband, her dreams seem to be answered. Yet as she tries to find him, her calls go unanswered.

Weaving between the aftermath of the explosion and Julia's memories of her life with Michael, new developments raise troubling questions. Did Michael survive the explosion? Why hasn't he contacted her? What was he doing when their last call was cut off? Was he—or is he still—the man she fell in love with?
I was just reading some early reviews on this book and people are absolutely loving it. Put it on your To-Read list immediately. Due out June 12!
CREEPY is the word I'd use to describe  The Stranger by Melanie Raabe. This book is out now so if you are looking for something to read right now, look no further.
She doesn't know him. But he knows everything about her.  Philip Petersen, a wealthy businessman, disappears without a trace on a trip to South America. His wife, Sarah, is left to bring up their son on her own.

Seven years later, out of the blue, Sarah receives news that Philip is still alive. But the man who greets her before a crowd of journalists at the airport is a stranger—and he threatens Sarah. If she exposes him, she will lose everything: her house, her job, her son…her whole beautiful life.
The premise reminds me of the story of the changeling, a missing kid who returns only its not the same child who went missing…I can't wait to see what surprises unfold in this book.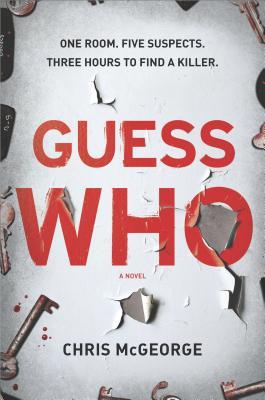 Guess Who by Chris McGeorge offers up a seriously juicy plot:
The rules are simple.But the game is not.

At eleven years old, Morgan Sheppard solved the murder of a teacher when everyone else believed it to be a suicide. The publicity surrounding the case laid the foundation for his reputation as a modern-day Sherlock Holmes. He parlayed that fame into a gig as TV's "resident detective," solving the more typical tawdry daytime talk show mysteries like "Who is the father?" and "Is he cheating?"Until, that is, Sheppard wakes up handcuffed to a bed in an unfamiliar hotel room.

Around him, five strangers are slowly waking up, as well. Soon they discover a corpse in the bathtub and Sheppard is challenged to put his deductive skills to the test. One of the people in the room is the killer. He has three hours to solve the murder. If he doesn't find the killer, they all will die.An ingenious, page-turning debut, Chris McGeorge's Guess Who matches the high-wire plotting of classic "locked room" mysteries into the unstoppable pacing of the modern-day thriller.
As soon as I read the synopsis, I knew I had to read this. It reminds me a little of the game Clue! Of course, this book is probably nothing like the beloved board game, but I am totally into a story that eliminates suspects like Murder on the Orient Express. I'm super excited to get started on this book. And check out the book cover, I love it! Even if you knew nothing about the story inside, wouldn't you want to read based on the brilliant jacket design?
Another mystery/suspense/page turner, #Fashion Victim by Amina Akhtar. This book is getting a lot of early advance praise and people are saying that it's, "darkly humorous" and its a "thriller" and "psychopathic" and that makes me very interested!
Premise:
Fashion editor Anya St. Clair is on the verge of greatness. Her wardrobe is to die for. Her social media is killer. And her career path is littered with the bodies of anyone who got in her way. She's worked hard to get where she is, but she doesn't have everything.

Not like Sarah Taft. Anya's obsession sits one desk away. Beautiful, stylish, and rich, she was born to be a fashion world icon. From her beach-wave blonde hair to her on-trend nail art, she's a walking editorial spread. And Anya wants to be her friend. Her best friend. Her only friend.

But when Sarah becomes her top competition for a promotion, Anya's plan to win her friendship goes into overdrive. In order to beat Sarah…she'll have to become her. Friendly competition may turn fatal, but as they say in fashion:One day you're in, and the next day you're dead.
The way the book is described reminds me a little of my own novel, The Blondes of Bel Air. Dark humor, suspense, a little bit of craziness and a swiftly moving plot will appeal to those who want a quick, fun, thriller for a summer afternoon.