I have heard nothing but excellent things about His & Hers by Alice Feeney so I was THRILLED to get my hands on it, then further excited when I was swept up into the story right away. It was just as good as I hoped!
This book offers not one but two narrators I didn't fully trust, along with the point of view from a killer. This engaged me from beginning to end and lived up to its many praises and accolades.
Here's the premise:
Anna Andrews finally has what she wants. Almost. She's worked hard to become the main TV presenter of the BBC's lunchtime news, putting work before friends, family, and her now ex-husband. So, when someone threatens to take her dream job away, she'll do almost anything to keep it.

When asked to cover a murder in Blackdown–the sleepy countryside village where she grew up–Anna is reluctant to go. But when the victim turns out to be one of her childhood friends, she can't leave. It soon becomes clear that Anna isn't just covering the story, she's at the heart of it.

DCI Jack Harper left London for a reason, but never thought he'd end up working in a place like Blackdown. When the body of a young woman is discovered, Jack decides not to tell anyone that he knew the victim, until he begins to realise he is a suspect in his own murder investigation.
I think the best way to read this book is to jump in and don't read many reviews, especially ones with spoilers. You want to be surprised and let this novel take you on a wild ride with ups and downs and shocking reveals.
This comes out on the 28th of July (SOON!) and you can pre-order it here!
The Lost Apothecary by Sarah Penner was a fantastic historical fiction, which I devoured.
After reading about *Aqua Tofana, a poisonous potion developed for women to give to their abusive husbands, the premise of this book instantly intrigued me.
Check it out: 
Rule #1: The poison must never be used to harm another woman.

Rule #2: The names of the murderer and her victim must be recorded in the apothecary's register.

One cold February evening in 1791, at the back of a dark London alley in a hidden apothecary shop, Nella awaits her newest customer. Once a respected healer, Nella now uses her knowledge for a darker purpose—selling well-disguised poisons to desperate women who would kill to be free of the men in their lives. But when her new patron turns out to be a precocious twelve-year-old named Eliza Fanning, an unexpected friendship sets in motion a string of events that jeopardizes Nella's world and threatens to expose the many women whose names are written in her register.

In present-day London, aspiring historian Caroline Parcewell spends her tenth wedding anniversary alone, reeling from the discovery of her husband's infidelity. When she finds an old apothecary vial near the river Thames, she can't resist investigating, only to realize she's found a link to the unsolved "apothecary murders" that haunted London over two centuries ago. As she deepens her search, Caroline's life collides with Nella's and Eliza's in a stunning twist of fate—and not everyone will survive.
Not only did I enjoy the plot, which was captivating, but the characters were interesting and sympathetic.
This was such a page-turner, and I really enjoyed every chapter. The writing was so atmospheric; I was there with Nella and Eliza, creating these potions in the darkly hidden room.  And the story of Caroline was a nice change of pace from  1791 where Nella and Eliza lived. I also learned new things like what "mudlarking" is (and now I want to do it).
I cannot recommend this book enough. When I was done reading, I instantly wanted to read more from Sarah.
Coming out in March 2021, pre-order here.
*Giulia Tofana is a woman that most people may have never heard of.  But if you were flip through the pages of Italian renaissance history, you would find her name right there among the list of people that became prolific murders of the time. Tofana was what you would now call a beauty influencer, and created her own line of makeup. But it was no ordinary make-up business for she turned into a poison factory and killed at least 600 men for over a period of 50 years in the mid-17th century without being caught – until she got snitched on. Read more here!
Like Mother Like Daughter by Elle Croft is just what you need if you are craving suspense that will keep your heart pounding from start to finish. I love books like this one, that doesn't feature the same domestic thriller formula of husband vs. wife. Or a wife vs. best friend.
Take a thriller and turn it on its head, please! Like this book.
Take a peek:
If what they said was true, then the grotesque and the monstrous ran in her blood. It was imprinted within her very core, her DNA, a part of every cell in her body.

Kat's children are both smart and well-adjusted. On the outside.

Kat has always tried to treat Imogen and Jemima equally, but she struggles with one of her daughters more than the other.

Because Imogen's birth mother is a serial killer. And Imogen doesn't know.

They say you can't choose your family, but what if your family chooses you?
The best way to go into this book is to not know anything, just jump in and be confident you are in a for a wild ride! Highly recommended.
Read this right now, get it here.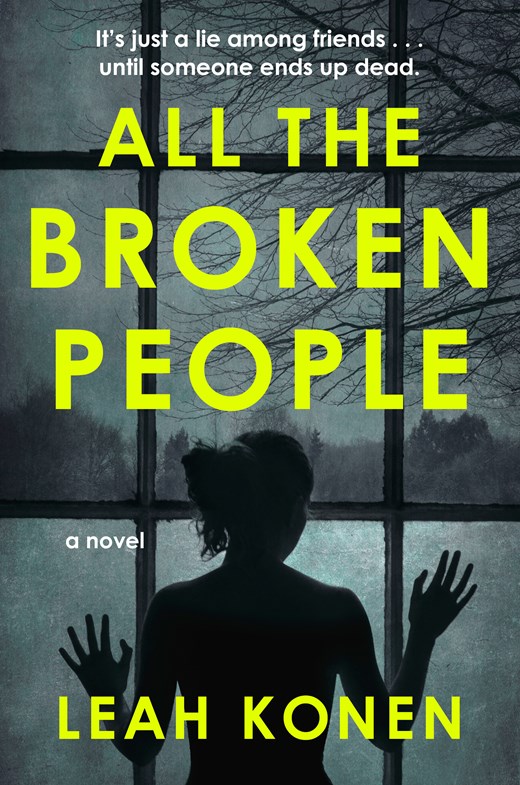 All The Broken People by Leah Konen will keep you reading until the late hours of night or the early morning hours. What I liked about this novel was not only the twists of the plot but how the author keeps you guessing right up until the last page.
Lucy King leaves her home in Brooklyn, heading to a small cabin in Woodstock. She is running from an abusive boyfriend and hiding from her best friend- his sister. In her new home, she is swept up into the lives of her neighbors, an intriguing couple named Vera and John.
Unfortunately, John has been accused of a crime, and he needs to flee. Lucy knows what that's like. So she helps the couple.
Naturally, things fall apart.
Synopsis:
Fleeing Brooklyn with little more than a suitcase and her trusty dog, Lucy King heads to rustic Woodstock, New York, eager to lose herself in a quiet life where her past can never find her. But when she meets Vera and John, the alluring couple next door, their friendship proves impossible to resist. Just as Lucy starts to think the worst is behind her, the couple delivers a staggering bombshell: they, too, need to escape their troubles — and the only way they can begin their new life is if Lucy helps them fake John's death.

Afraid to lose her newfound support system, Lucy reluctantly conspires with them to stage an "accidental" death on a hike nearby. It's just one little lie to the police, after all, and she knows a thing or two about the importance of fresh starts. But what begins as an elaborate ruse turns all too real when John turns up dead in the woods the morning after their hike. Now, Lucy must figure out who she can trust and who's pulling the strings of her tenuous new life… before she takes the fall for murder.
WOW.
I was right alongside Lucy as she grew closer to Vera and John. And then when things began to go awry, I worried about her. This was a tense domestic suspense novel that will keep you engrossed  until the last page.
Don't miss it.
Read this now, you can get it here. 
The Lions of Fifth Avenue by Fiona Davis is so good! It's just what you have to come to expect from Fiona. Its a wonderful historical fiction novel that details an iconic place in New York City. For this novel, she has taken on the New York Public Library.
As you read, you get such a sense of the place and how it was back in 1913. What I love about Fiona's books,  yes I've read them all, is how detailed and rich the story is, placing you right there alongside the characters. I wish I could go back in time to NYC from long ago. Thankfully I can through this novel!
Synopsis:
It's 1913, and on the surface, Laura Lyons couldn't ask for more out of life–her husband is the superintendent of the New York Public Library, allowing their family to live in an apartment within the grand building, and they are blessed with two children. But headstrong, passionate Laura wants more, and when she takes a leap of faith and applies to the Columbia Journalism School, her world is cracked wide open. As her studies take her all over the city, she finds herself drawn to Greenwich Village's new bohemia, where she discovers the Heterodoxy Club–a radical, all-female group in which women are encouraged to loudly share their opinions on suffrage, birth control, and women's rights. Soon, Laura finds herself questioning her traditional role as wife and mother. But when valuable books are stolen back at the library, threatening the home and institution she loves, she's forced to confront her shifting priorities head on . . . and may just lose everything in the process.

Eighty years later, in 1993, Sadie Donovan struggles with the legacy of her grandmother, the famous essayist Laura Lyons, especially after she's wrangled her dream job as a curator at the New York Public Library. But the job quickly becomes a nightmare when rare manuscripts, notes, and books for the exhibit Sadie's running begin disappearing from the library's famous Berg Collection. Determined to save both the exhibit and her career, the typically risk-adverse Sadie teams up with a private security expert to uncover the culprit. However, things unexpectedly become personal when the investigation leads Sadie to some unwelcome truths about her own family heritage–truths that shed new light on the biggest tragedy in the library's history.
Fiona writes amazing historical fiction, be sure to grab this! Coming on August 4!
And if you love NYC as I do, look at this vintage footage from Manhattan back in the early 1900s.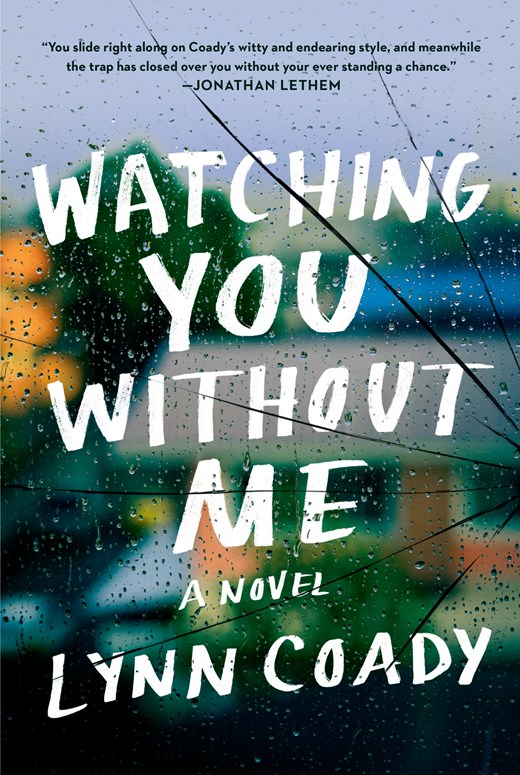 Watching You Without Me by Lynn Coady is a novel that features the themes of family, grief, guilt.I enjoyed this story and especially liked how the author plotted this to continuously tighten the tension until the end. Well done!
Synopsis:
After her mother's sudden death, Karen finds herself back in her childhood home in Nova Scotia for the first time in a decade, acting as full-time caregiver to Kelli, her older sister. Overwhelmed with grief and the daily needs of Kelli, who was born with a developmental disability, Karen begins to feel consumed by the isolation of her new role. On top of that, she's weighed down with guilt over her years spent keeping Kelli and their independent-to-a-fault mother, Irene, at arm's length. And so when Trevor — one of Kelli's support workers — oversteps his role and offers friendly advice and a shoulder to cry on, Karen gratefully accepts his somewhat overbearing friendship. When she discovers how close Trevor was to Irene, she comes to trust him all the more. But as Trevor slowly insinuates himself into Karen and Kelli's lives, Karen starts to grasp the true aspect of his relationship with her mother — and to experience for herself the suffocating nature of Trevor's "care."
This novel is a suspenseful look at one woman's pain and grief.
Read it now, download it for Kindle here.
To Dare by Jemma Wayne, yet ANOTHER good book! So many fantastic novels coming out in 2020. Its been such a great year for reading. In this story, there are three women:
Veronica married and hoping for a baby after suffering a miscarriage. She is looking for a fresh start in a new home. Her neighbor is Simone, an addict and has an abusive husband. Sarah is Veronica's childhood friend.
These three women's stories will intersect.
Check out the plot:
Veronica and her wealthy husband George are unpacking boxes, hoping a fresh start in their newly refurbished Victorian terrace will help them heal from a recent trauma.
Next door, Simone returns to her neglected council flat. Miserable and trapped, she struggles to take care of her children under the watch of her controlling husband Terry.

When childhood friend Sarah re-enters Veronica's life, things are thrown even further off balance. As tensions in their own lives rise, the painful memory that binds them threatens to spill into their present.  Three lives collide in this story of family, inequality and revenge.
When you start this book, you will make assumptions about these women and you will most likely be wrong. This was a heavy story with difficult themes of addiction, abuse, deception. Yes, it's dark.  But so well written and definitely worth your time to read!
Read this now, get a copy here!
Love Your Life by Sophie Kinsella was a light, fun, cute book which I needed in-between everything going on in the world and the darker novels I gravitate towards.
Ava and Matt meet at a writers workshop where they have taken on fake names and can't speak of anything personal. Despite this, they instantly connect and have a week long romance. When its time to get back to their normal lives, they decide to make this new relationship work.
As they get to know each other, they realize that they might be way more different than they first thought. Are they truly compatible? Or was their week long fling just a vacation romance, not meant to go the distance?
Heres the official synopsis:
Call Ava romantic, but she thinks love should be found in the real world, not on apps that filter men by height, job, or astrological sign. She believes in feelings, not algorithms. So after a recent breakup and dating app debacle, she decides to put love on hold and escapes to a remote writers' retreat in coastal Italy. She's determined to finish writing the novel she's been fantasizing about, even though it means leaving her close-knit group of friends and her precious dog, Harold, behind.

At the retreat, she's not allowed to use her real name or reveal any personal information. When the neighboring martial arts retreat is canceled and a few of its attendees join their small writing community, Ava, now going by "Aria," meets "Dutch," a man who seems too good to be true. The two embark on a baggage-free, whirlwind love affair, cliff-jumping into gem-colored Mediterranean waters and exploring the splendor of the Italian coast. Things seem to be perfect for Aria and Dutch.

But then their real identities–Ava and Matt–must return to London. As their fantasy starts to fade, they discover just how different their personal worlds are. From food choices to annoying habits to sauna etiquette . . . are they compatible in anything? And then there's the prickly situation with Matt's ex-girlfriend, who isn't too eager to let him go. As one mishap follows another, it seems while they love each other, they just can't love each other's lives. Can they reconcile their differences to find one life together?
In her signature writing style, Sophie Kinsella delivers a perfectly good book that is pure entertainment. Just grab this book and relax for an afternoon of reading! You don't have to focus on it too hard, just enjoy this sweet and humorous story!
Don't miss this, due out on October 27! 
Finders, Keepers by Sabine Durrant… what can I say about this? All good, of course. Throughout the book, you just know things aren't what they seem. Right away I got Notes on Scandal by Zoe Heller vibes, did you read that novel? It's a must-read if you haven't read it.
The character of Verity is a lonely older woman who has lived her life taking care of her mother, who is now deceased. She mourns the sister who has left and Verity spends her days working on her computer in her crumbling house in need of repair with her beloved dog Maudie at her side.
Then new neighbors move in and Verity finds a friend in Ailsa Tilson. She doesn't care for Tom, Ailsa's husband who is frequently mean to their son Max, with whom Verity forms a bond.  He's also on Verity's case about her overthrowing plants and weeds which have invaded the Tilson's yard.
The book goes between the present, where we know someone has been murdered, and the past leading up to the crime. It's not until the very end where everything comes together, but as a reader, you will draw your own suspicions.
Take a look at the plot:
Ailsa Tilson moves with her husband and children to Trinity Fields in search of the new.  New project – a house to renovate. New people – no links to the past. New friends – especially her next-door neighbour, the lonely Verity, who needs her help.

Verity has lived in Trinity Fields all her life. She's always resisted change. Her home and belongings are a shield, a defence to keep the outside world at bay. But something about the Tilsons piques her interest.  Just as her ivy creeps through the shared garden fence, so Verity will work her way into the Tilson family.
I loved the writing, it's so evocative. I was there in the house as Ailsa discovered what Verity was hiding. I was there when Verity was alone, ruminating over her life.  The story unfolds at a perfect pace, allowing you to learn little things here and there.  Its a dark story and suspenseful.
The author did a brilliant job with this book and I cannot wait to read more from her.
Pre-order this now, it comes out on October 20!
The Ringmasters Daughter by Carley Schabowski is a historical fiction that set me in Paris, during the 1940s. With beautiful writing and descriptions, you are there along with Michel as he becomes a part of a traveling circus.
Umm, 1940s plus a circus? YES PLEASE.
As always, I want to read books with plots that I haven't seen a  million times before.
If you are looking for a good historical fiction story, get this right now.
Here is the official synopsis:
Paris, 1940. Twenty-year-old Michel Bonnet lives on the edge of the law, finding work where he can break in horses on the outskirts of the city. But when the Nazis invade, Michel takes refuge as a stowaway on a rickety train bound for the rural south. It's a journey that will change his life forever.

The train is property of Le Cirque Neumann – a traveling circus owned by the troubled and irritable showman Werner Neumann. Neumann offers Michel a job caring for the company's horses – a lucky break, but with an unusual condition attached. Michel must keep to himself and never speak of what he sees behind the glittering curtain of the big top.

But as Michel finds himself pulled into the strange and wondrous world of the great spectacular it becomes more difficult to keep his promise. Why does the man with the performing monkey never speak, and the sword swallower turn his face away? Who are the silent, shadowy figures who flit like moths between the wagons when the sun is down? It's clear that Neumann is keeping his performers hidden away… but why? And how can Michel win the love of the beautiful and exotic trapeze artist Freida – the graceful, green-eyed star of Neuman's spectacular – when he's been forbidden to even meet her gaze?
Out now, this is the perfect book to read in a single afternoon! Get it here.
If you haven't seen the Netflix show, Tiger King, you may not know much about Joe Exotic and his saga.  In that case, get this book, Tiger Wars, Joe Exotic vs The Big Cat Queen by Al Cimino. And if you have seen it, the book will enhance your knowledge and let you in on secrets and details you may not know about.
This book delves into Joe Schreibvogel's life, family, the start of the zoo. It explores the crazy rift between Carole Baskin and Joe which reads more like a work of fiction than something rooted in fact but the truth is stranger than fiction and this book shows you just that.
Check it out:
The global smash-hit Netflix documentary mini-series Tiger King introduced viewers to the weird, crazy and chaotic life of private zoo owner and big cat breeder Joe Exotic, and his war against Carole Baskin. Baskin, who runs the Big Cat Rescue in Florida, a sanctuary for abused and abandoned wild cats, waged a long legal battle to have Joe's exotic animal park in Oklahoma shut down for the maltreatment of his animals.

But Carole had her own dark past, and Joe wasn't going down without a fight; he responded by plotting to have her murdered. Tiger Wars delves deeper into this stranger-than-fiction tale and tells the shocking story of this big cat war, the cult-like characters involved and the spiral of obsession that landed Joe Exotic in jail and exposed the dark heart of America's big cat obsession.
I thought this was a fun read, its quick and entertaining!
Read for free on Kindle Unlimited or only $2.99!
Dark August by Katie Tallo is about a woman named Augusta (Gus) who is meandering through life until her great grandmother passes away. Gus heads back to her hometown where she has inherited her great-grandmother's old house and her dog.  As you might imagine, Gus finds an old trunk and naturally, it contains interesting contents. More specifically, files on a case from her mother, a woman who died in an accident when Gus was a child.
Gus decides to look into the story and wants to solve the case.
Of course, nothing goes as planned.
Check it out:
Augusta (Gus) Monet is living an aimless existence with her grifter boyfriend when she learns that her great grandmother—her last living relative—has just died. Ditching her boyfriend, Gus returns to the home she left as a young girl. Her inheritance turns out to be a dilapidated house and an old dog named Levi. While combing through her great grandmother's possessions, Gus stumbles across an old trunk filled with long-lost childhood belongings. But that's not all the trunk contains. She also discovers cold case files that belonged to her mother, a disgraced police detective who died in a car accident when Gus was eight. Gus remembers her mother obsessing over these very same documents and photographs, especially a Polaroid of a young ballerina.

When Gus spots a front-page news story about the unearthing of a body linked to one of the cold case files from her grandmother's trunk, she can't resist following her mother's clues. As she digs deeper, determined to finish her mother's investigation, her search leads her to a deserted ghost town, which was left abandoned when the residents fled after a horrific fire. As Gus' obsession with the case grows, she inadvertently stirs up the evils of the past, putting her life in danger. But Gus refuses to be undeterred and is committed to uncovering long-buried secrets, including the secrets surrounding a missing geology student, the young ballerina in the Polaroid, a prominent family's devastating legacy, and a toxic blast that blew an entire town off the map.

But is Gus ready to learn the truths that culminated on one terrible August night, more than a decade earlier, when lives were taken, and secrets were presumed buried forever…?
I'm always interested in a cold case from a small town. And there's always something that grips me with story where a woman returns home. I call books like this a "slow burn" where there aren't massive twists and turns in every chapter, but a consistent story that moves forward to a satisfying conclusion.
If you like a solid mystery, take a look at this one.
Read this today, get it here now.

I really liked The Perfect Son,  so I was happy to get my hands on One Step Behind by Lauren North. If you are into stalker stories, you will have to check this out. I do like a stalker trope which can be very disturbing, I mean that in the best way.
When reading a suspense book about a stalking situation, you want to be nervous and a little scared, right?
For the first part of the book, we meet Jenna and learn all about her life. Things move somewhat slowly until this man, the one who has been stalking her, shows up in the hospital. I thought things starting moving a little quicker during the second part of the book when Jenna starts to figure out the who-what-why of this man.
Take a look at the plot:
Jenna is a wife, a mother, a doctor. She's also the victim of a stalker. Every time she leaves her house, she sees him. Disturbing gifts are left at her door. Cruel emails are sent to her colleagues. She has no idea who this man is but she feels powerless against him.

Until the day he is brought into her hospital after a serious accident, and Jenna is given the chance to find out once and for all why this man is tormenting her. Now, the power is all hers.

But how many lines is she willing to cross to take back control of her life?
Whew! You can instantly see how this can go in different directions.  I don't want to give much away at all, its best that you read the book and let everything unfold!
This comes out on September 1, get it here.
I've been doing a ton of reading and have hit my Goodreads goal already, yay! I read Age of Consent by Amanda Brainerd yesterday; I was so intrigued after seeing one of my favorite authors, Caroline Leavitt, post about this book.
All I needed to see was New York City and 1983, I knew I wanted to read it!
This is about three teenaged girls: Justine, who is poor and on scholarship at the exclusive boarding school Griswold Academy. Her friend Eve, from New York City and is super rich. She is embarking on a forbidden relationship with her English teacher (cringe!) and Eve's friend India, who practically lives alone. This book explores their friendships and experiences as young girls trying to figure out their lives under the restrictions (or not) of their parents.
I went in hoping for more Manhattan and more 80s references. With such a backdrop to the story; I hoped for more particulars that would put me in NYC in the 80's which was such an interesting time.  For me personally, if a book takes place in another era, I want to be immersed in that time with rich details including music and makeup and brands that were popular back then. But that's just me!
The writing was consistently balanced from start to finish, and I enjoyed the story of the girls although I felt bad for each of them. They had such struggles and wanted to grow up fast.
Synopsis:
It's 1983. David Bowie reigns supreme, and downtown Manhattan has never been cooler. But Justine and Eve are stuck at Griswold Academy, a Connecticut boarding school. Griswold is a far cry from Justine's bohemian life in New Haven, where her parents run a theater and struggle to pay the bills. Eve, the sophisticated daughter of status-obsessed Park Avenue parents, also feels like an outsider amidst Griswold's preppy jocks and debutantes. Justine longs for Eve's privilege, and Eve for Justine's sexual confidence. Despite their differences, they form a deep friendship, together grappling with drugs, alcohol, ill-fated crushes, and predatory male teachers.

After a tumultuous school year, Eve and Justine spend the summer in New York City where they join Eve's childhood friend India. Justine moves into India's Hell's Kitchen apartment and is pulled further into her friends' glamorous lives. Eve, under her parents' ever-watchful eye, interns at a SoHo art gallery and navigates the unpredictable whims of her boss. India struggles to resist the advances of a famous artist represented by the gallery. All three are affected by their sexual relationships with older men and the power adults hold over them, even as the young women begin to assert their independence.
When I am not head-over-heels gushing about a book, it's really more about my own preferences and mood. I never blame an author. I think so many people will devour this story and rave about it!