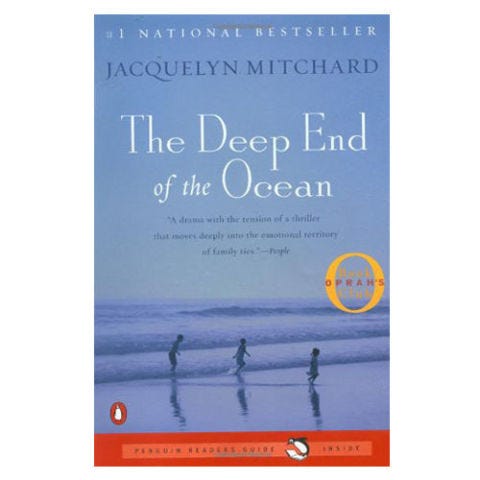 The Deep End of the Ocean by Jacquelyn Mitchard I  loved this book! I remember being so captivated by the storyline when I read it even though I read it before I had kids. This one remains one of my favorite Oprah picks.
Oprah Book Club® Selection, September 1996: The horror of losing a child is somehow made worse when the case goes unsolved for nearly a decade, reports Milwaukee Journal-Sentinel columnist Jacquelyn Mitchard in this searing first novel. In it, 3-year-old Ben Cappadora is kidnapped from a hotel lobby where his mother is checking into her 15th high school reunion. His disappearance tears the family apart and invokes separate experiences of anguish, denial, and self-blame. Marital problems and delinquency in Ben's older brother (in charge of him the day of his kidnapping) ensue. Mitchard depicts the family's friction and torment–along with many gritty realities of family life–with the candor of a journalist and compassion of someone who has seemingly been there. International publishing and movie rights sold fast on this one: It's a blockbuster.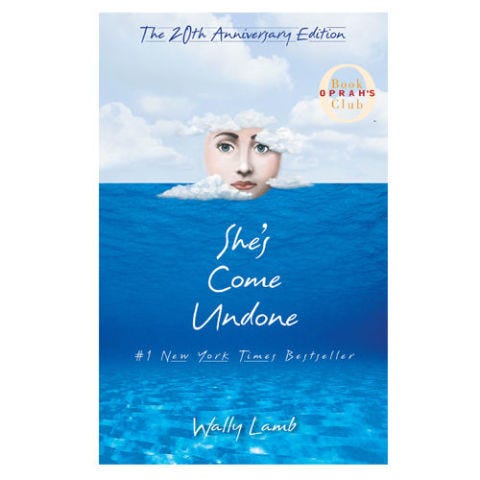 She's Come Undone by Wally Lamb will make you feel all the feels. Emotional, written extraordinarily well, I clearly recall being glued to the pages of this novel when I read it so long ago.
"Mine is a story of craving: an unreliable account of lusts and troubles that began, somehow, in 1956 on the day our free television was delivered. . ."

Meet Dolores Price. She's thirteen, wise-mouthed but wounded, having bid her childhood good-bye. Beached like a whale in front of her bedroom TV, she spends the next few years nourishing herself with the Mallomars, potato chips, and Pepsi her anxious mother supplies. When she finally rolls into young womanhood at 257 pounds, Dolores is no stronger and life is no kinder. But this time she's determined to rise to the occasion and give herself one more chance before really going belly-up.

At once a fragile girl and a hard-edged cynic, so tough to love yet so inimitably lovable, Dolores is as poignantly real as our own imperfections. She's Come Undone includes a promise: you will never forget Dolores Price.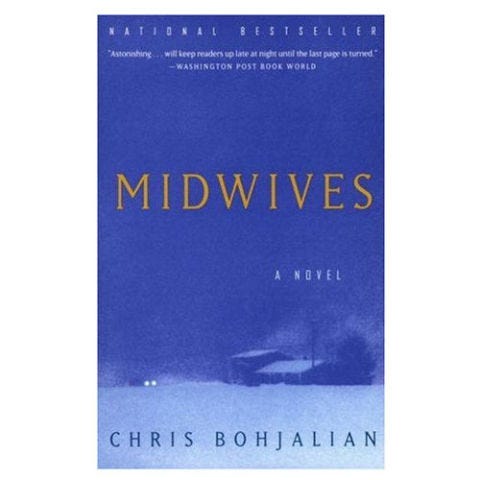 Midwives by Chris Bohjalian is a must read if you haven't read it by now! It's not suspense in the traditional sense, but you will be turning the pages quickly to see what is going to happen next.
On an icy winter night in an isolated house in rural Vermont, a seasoned midwife named Sibyl Danforth takes desperate measures to save a baby's life. She performs an emergency cesarean section on a mother she believes has died of stroke. But what if—as Sibyl's assistant later charges—the patient wasn't already dead?   The ensuing trial bears the earmarks of a witch hunt, forcing Sibyl to face the antagonism of the law, the hostility of traditional doctors, and the accusations of her own conscience. Exploring the complex and emotional decisions surrounding childbirth, Midwives engages, moves, and transfixes us as only the very best novels ever do.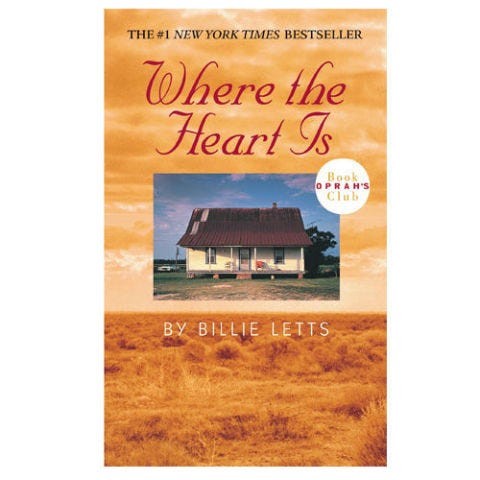 I want more books like this in my life. Where the Heart is by Billie Letts was the perfect combination of characters you cared about, tough times, and the goodness of people. LOVED IT.
Talk about unlucky sevens. An hour ago, seventeen-year-old, seven months pregnant Novalee Nation was heading for California with her boyfriend. Now she finds herself stranded at a Wal-Mart in Sequoyah, Oklahoma, with just $7.77 in change. But Novalee is about to discover hidden treasures in this small Southwest town–a group of down-to-earth, deeply caring people willing to help a homeless, jobless girl living secretly in a Wal-Mart. From Bible-thumping blue-haired Sister Thelma Husband to eccentric librarian Forney Hull who loves Novalee more than she loves herself, they are about to take her–and you, too–on a moving, funny, and unforgettable journey to . . . Where the Heart Is.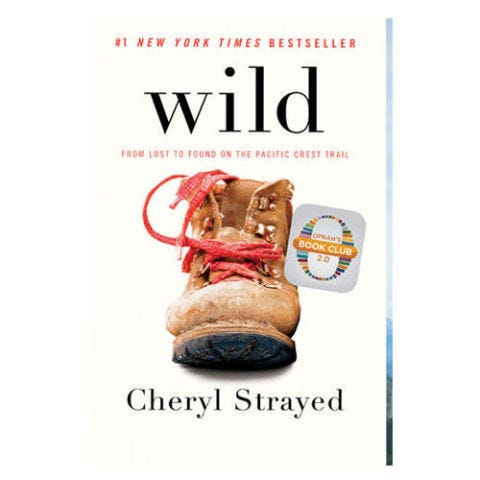 This is just an incredible book about the human spirit and being pushed to the edge of our emotional comfort. Wild by Cheryl Strayed resonated with me deeply, I was captivated by the author's story and ultimately, the wisdom she gained from her experiences.
At twenty-two, Cheryl Strayed thought she had lost everything. In the wake of her mother's death, her family scattered and her own marriage was soon destroyed. Four years later, with nothing more to lose, she made the most impulsive decision of her life. With no experience or training, driven only by blind will, she would hike more than a thousand miles of the Pacific Crest Trail from the Mojave Desert through California and Oregon to Washington State—and she would do it alone. Told with suspense and style, sparkling with warmth and humor, Wild powerfully captures the terrors and pleasures of one young woman forging ahead against all odds on a journey that maddened, strengthened, and ultimately healed her.
Also notable:
I know there was controversy surrounding this book but I loved it. I will always enjoy a good memoir.