Looking for an amazing novel with a gripping story? Do you love losing yourself in historical fiction? Then get yourself this book immediately! The Way of Beauty by Camille DiMaio came out in May and its a must-read!
From the beautifully designed cover to the story, its a four-star, A+ read.
Here's what you need to know: 
Vera Keller, the daughter of German immigrants in turn-of-the-century New York City, finds her life upended when the man she loves becomes engaged to another woman. But Angelo Bellavia has also inadvertently opened up Vera's life to unexpected possibilities. Angelo's new wife, Pearl, the wealthy daughter of a clothing manufacturer, has defied her family's expectations by devoting herself to the suffrage movement. In Pearl, Vera finds an unexpected dear friend…and a stirring new cause of her own. But when Pearl's selfless work pulls her farther from Angelo and their son, the life Vera craved is suddenly within her reach—if her conscience will allow her to take it.

Her choice will define not only her future but also that of her daughter, Alice.

Vera and Alice—a generation and a world apart—are bound by the same passionate drive to fulfill their dreams. As first mother and then daughter come of age in a city that is changing as rapidly as its skyline, they'll each discover that love is the only constant.
I am a HUGE FAN of New York City at the turn of the century, I devour any book that has an old Manhattan as the backdrop. Add to that an irresistible storyline and I will be reading deep  into the night.
Speaking of staying up late at night, I could not put down Lilli de Jong by Janet Benton. What a masterpiece of a novel! I was hooked from the beginning pages and of course, didn't want it to end. My heart broke with every stumble and loss. This is the story of young Lilli who, as an unwed mother, is shamed and shunned. She must resort to desperate actions to save her life and the life of infant daughter, often doing unimaginable things.
Pregnant, abandoned by her lover, and banished from her Quaker home and teaching position, Lilli de Jong enters a charity for wronged women to deliver her child. She is stunned at how much her infant needs her and at how quickly their bond overpowers her heart. Mothers in her position have no sensible alternative to giving up their children, but Lilli can't bear such an outcome. Determined to chart a path toward an independent life, Lilli braves moral condemnation and financial ruin in a quest to keep herself and her baby alive.

Confiding their story to her diary as it unfolds, Lilli takes readers from an impoverished charity to a wealthy family's home to the perilous streets of a burgeoning American city. Lilli de Jong is at once a historical saga, an intimate romance, and a lasting testament to the work of mothers. "So little is permissible for a woman," writes Lilli, yet on her back every human climbs to adulthood."
I loved every page! What an incredible book and I admire the author's research and detail.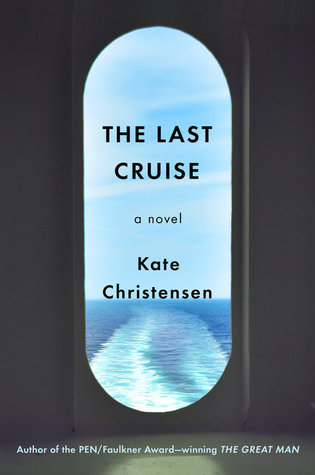 This one comes out in July so add it to your TO READ list! The Last Cruise by Kate Christensen caught my attention right away. It's about a cruise so as someone who loves to cruise and travel, I knew I'd have to read it.
While not a historical novel, the story does revolve around a 1950's ocean liner and includes classic food from the 50s plus no wifi, tv, you know, like it was in the olden days.
Here's the plot:
The 1950s vintage ocean liner Queen Isabella is making her final voyage before heading to the scrapyard. For the guests on board, among them Christine Thorne, a former journalist turned Maine farmer, it's a chance to experience the bygone mid-20th century era of decadent luxury cruising, complete with fine dining, classic highballs, string quartets, and sophisticated jazz. Smoking is allowed but not cell phones–or children, for that matter. The Isabella sets sail from Long Beach, CA into calm seas on a two-week retro cruise to Hawaii and back.

But this is the second decade of an uncertain new millennium, not the sunny, heedless fifties, and certain disquieting signs of strife and malfunction above and below decks intrude on the festivities. Down in the main galley, Mick Szabo, a battle-weary Hungarian executive sous-chef, watches escalating tensions among the crew. Meanwhile, Miriam Koslow, an elderly Israeli violinist with the Sabra Quartet, becomes increasingly aware of the age-related vulnerabilities of the ship herself and the cynical corners cut by the cruise ship company, Cabaret.

When a time of crisis begins, Christine, Mick, and Miriam find themselves facing the unknown together in an unexpected and startling test of their characters.
I am absolutely excited to start reading this book. I love the idea of the story and the vintage cruise ship!
If you haven't read anything by Kate Morton, do it now! She is a fantastic author and I have thoroughly enjoyed every book she's written. Her newest is The Clockmaker's Daughter, due out this fall.
When I see an author I like, I don't usually even bothering looking at the plot because I know I will devour the book no matter what the subject. As I have mentioned before, a new book by an author whose work I enjoy gets me ridiculously excited. I am a true book addict, book lover, a fan of reading, avid reader!
Here's what you need to know:
In the summer of 1862, a group of young artists led by the passionate and talented Edward Radcliffe descends upon Birchwood Manor on the banks of the Upper Thames. Their plan: to spend a secluded summer month in a haze of inspiration and creativity. But by the time their stay is over, one woman has been shot dead while another has disappeared; a priceless heirloom is missing; and Edward Radcliffe's life is in ruins.

Over one hundred and fifty years later, Elodie Winslow, a young archivist in London, uncovers a leather satchel containing two seemingly unrelated items: a sepia photograph of an arresting-looking woman in Victorian clothing, and an artist's sketchbook containing the drawing of a twin-gabled house on the bend of a river.

Why does Birchwood Manor feel so familiar to Elodie? And who is the beautiful woman in the photograph? Will she ever give up her secrets?

Told by multiple voices across time, The Clockmaker's Daughter is a story of murder, mystery, and thievery, of art, love, and loss. And flowing through its pages like a river, is the voice of a woman who stands outside time, whose name has been forgotten by history, but who has watched it all unfold: Birdie Bell, the clockmaker's daughter.
A dual timeline is always fun, I often write this way myself, bringing the past and present together. I look forward to this novel and plan on clearing my calendar to read all day on Sunday!