How to Kill Men and Get Away With It by Katy Brent is a fun, humorous novel that is a fast-paced and dark story about a woman who commits Dexter-type killings on men who are sexual predators. I always love a heavy dose of satire in my books and this one delivers. A bit gruesome, but you can easily skim past those parts.
Here's the synopsis:
Meet Kitty Collins.FRIEND. LOVER. KILLER.

Have you ever walked home at night, keys in hand, ready to throw a punch in self-defense? That's how it all started. The killing spree, I mean.

I sort of tripped into this role… Literally. The first one was following me. That guy from the nightclub who wouldn't leave me alone. I pushed him, he stumbled and fell onto his own broken wine bottle. Oops. It was such a waste of a good house white.

But now I can't seem to stop and nor do I want to… I've got a taste for revenge and quite frankly, I'm killing it.
What a book! Don't miss it unless you are sensitive and squeamish. I need more like this one immediately!
Out on October 12!
This one was so good! I was glued to the pages and wanted to shake the main character many times and tell her to open her eyes! The Ex-Wives by Jenna Kernan focuses around Elana, who is married to a wealthy man. After being widowed and left with just her young daughter, Elana never dreamed she'd meet someone like Jackson. But slowly she learns the truth about the man she married and all is not so perfect at all.
Synopsis:
Two ex-wives. Two missing girls. Will yours be next?

Pulling a batch of my husband's favorite golden oatmeal cookies from the oven, I smile to hear my daughter Phoebe playing in the treehouse outside. I was once so close to losing everything, but since I married handsome Jackson, I have a perfect life. Jackson might tell me what to wear, but he just likes to buy me nice things. He says I don't need a job, and why would I want one? I can spend all day taking care of Phoebe and running errands in the fancy car Jackson gave me—he knows everywhere I go, and I love how much he wants to keep me safe.

But my whole world shatters when I find out Jackson is a liar.

He never mentioned he was married before—twice.

I love him so much. But how can I trust him now? Desperate for answers, I search our pristine house top to bottom. I thought Jackson was caring: but is it a way to control me?

When I track down his ex-wives, I see fear in their eyes. Both these women had little girls just like me. And when they left Jackson, their daughters went missing.

Devastated I've put Phoebe in danger, I have no choice but to find the truth about those poor girls. To protect Phoebe, I must pretend to still be the perfect wife, even though fear floods through me at Jackson's touch.

But how far will I have to go? And what will happen to me and my sweet child if my husband finds out?
I know we've seen similar plots before where a woman marries the perfect guy only to find out he's not so perfect but this one was really compelling with tension and nerve-biting twists. Out on October 10!
Stop everything, don't read the synopsis, just trust me on this one. Go get The Girlfriend by K.L. Slater right now. This author is so consistent in her excellent writing that you don't even need to know what you're getting into. There are several authors who write books that are always good and K. L. Slater is one of them.
But if you need to know, here is the synopsis: 
My husband's dead. She's at my door. She owns my home…

The doorbell rings, just days after my beloved husband's sudden death. I don't recognise the woman on our doorstep, with her buttery blonde highlights, a diamond bracelet identical to my own and a bouncing baby boy in her arms.

As I show her inside, I notice her eyes grow wide as she takes in our spacious hallway, and the big squashy sofas that we all used to pile on. She glances at the silver-framed family photos and my little daughter hiding behind my skirts.

She looks at me, her blue eyes serious. 'I'm sorry' she says. 'I know this will be hard to hear. But I am your husband's girlfriend. And this is his son.'

My world implodes. And then she tells me that she owns our home – and that she's not going anywhere…

An utterly gripping psychological thriller from the number one bestselling author of The Marriage. If you like Gone Girl, The Girl on the Train and Lisa Jewell then you will be hooked by The Girlfriend.
You cannot go wrong with any books by this author! The Girlfriend comes out on October 27!
Another fantastic author whose books I will always read is Jess Ryder. Her newest book is called My Husband's Lover.  If you enjoy suspense that is full of twists and keeps the tension tight along with excellent writing, this is the book for you. What would you do if you were Sophie? She is about to go on a trip and learns one of the women going is having an affair with her husband. She's not sure which one but she will certainly find out.
Synopsis:
A wife. A mistress. A week away with no escape…

As my girlfriends and I sip wine and share secrets in the flickering candlelight of our remote Scottish hideaway, we all agree we need this break. Every morning we will swim in icy cold lochs and hike to remote beaches and each night we will sip wine and share stories, cozy beside the log burner. It will be a break none of us will ever forget.

But behind my warm smile, there is ice in my heart. One of my friends is my husband's lover, and it's only a matter of time before I discover which one. She thinks she has me fooled, but she's not the only one with secrets.

I don't let my smile slip, but as I get closer to the truth, it becomes very clear that in these remote Scottish hills, far from help, someone is going to pay for their lies with their life…
WOW! What a book, don't miss it! Out on October 14.
I just finished When We Had Wings by Ariel Lawhon, Kristina McMorris, and Susan Meissner. All very talented writers, how can you not read this one? If you are a fan of any of those incredible authors or if you love historical fiction, this book is for you. I am in awe of anyone who writes historical fiction and cannot imagine the amount of research that goes into a book like this!
Reading about the Philippines during World War II was interesting and I appreciated the details of the setting. The nurses struggled to keep it all together as they did their job under the worst of conditions and they were certainly brave and strong in ways I could never be!
Synopsis:
The Philippines, 1941. When U.S. Navy nurse Eleanor Lindstrom, U.S. Army nurse Penny Franklin, and Filipina nurse Lita Capel forge a friendship at the Army Navy Club in Manila, they believe they're living a paradise assignment. All three are seeking a way to escape their pasts, but soon the beauty and promise of their surroundings give way to the heavy mantle of war.

Caught in the crosshairs of a fight between the U.S. military and the Imperial Japanese Army for control of the Philippine Islands, the nurses are forced to serve under combat conditions and, ultimately, endure captivity as the first female prisoners of the Second World War. As their resiliency is tested in the face of squalid living arrangements, food shortages, and the enemy's blatant disregard for the articles of the Geneva Convention, the women strive to keep their hope— and their fellow inmates—alive, though not without great cost.

In this sweeping story based on the true experiences of nurses dubbed "the Angels of Bataan," three women shift in and out of each other's lives through the darkest days of the war, buoyed by their unwavering friendship and distant dreams of liberation.
This was a good story, though a little slow-moving. Take your time with it and savor the details with this solid historical novel.
It's due out on October 18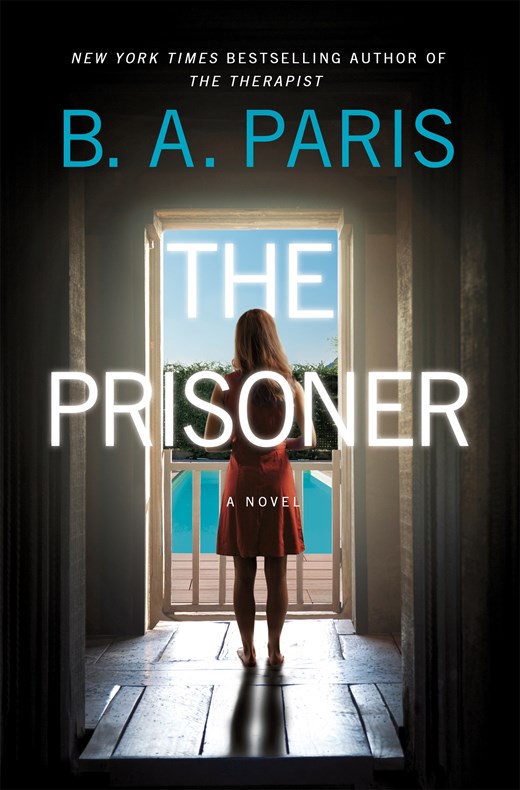 Because I have liked every book that B.A. Paris writes I didn't even read the synopsis of The Prisoner when I got a sneak peek of the book. I just dove in, knowing nothing. I assumed it was about a female prisoner but I was WRONG. It's not that at all.
Amelie is a very wealthy woman due to her marriage to billionaire Jed Hawthorne. So when she is kidnaped and left in a pitch-black room, she wonders if this situation is better than being with her husband because all is not great with him. The marriage is not a happy one and honestly, Amelie thinks this might be better. How can that be? Through past/present timelines we learn more and more about Amelie and Jed.
I was captivated by the story and read this quickly. B.A. Paris did not disappoint.
Synopsis:
Amelie has always been a survivor, from losing her parents as a child in Paris to making it on her own in London. As she builds a life for herself, she is swept up into a glamorous lifestyle where she married the handsome billionaire Jed Hawthorne.

But then, Amelie wakes up in a pitch-black room, not knowing where she is. Why has she been taken? Who are her mysterious captors? And why does she soon feel safer here, imprisoned, than she had begun to feel with her husband Jed?
This was another wonderful suspense from an author whose books I will always read! Unless she suddenly writes fantasy/dystopian/science fiction- I don't like those!
This comes out on November 1! So it's practically an October book, right?