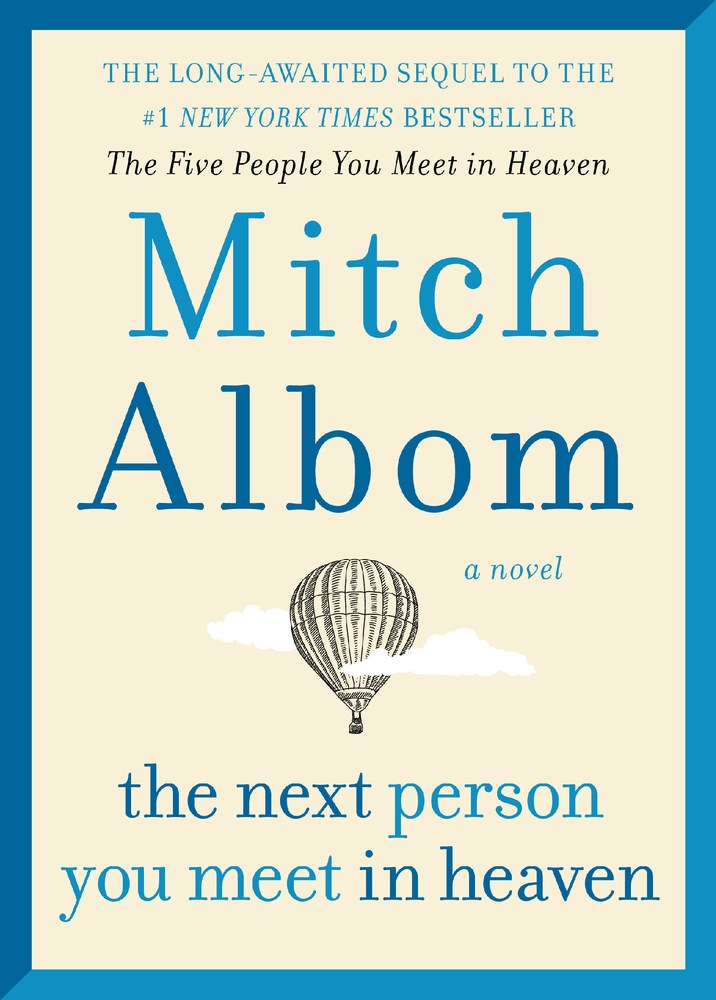 If you haven't read Mitch Albom's books, you are in for a treat. I remember reading Tuesday's With Morrie and crying, I was so touched by the story. I've read everything this author has written since and I was very excited (I get ridiculously excited by books and authors!) to see The Next Person You Meet In Heaven.  We need more books like this.
Fifteen years ago, in Mitch Albom's beloved novel, The Five People You Meet in Heaven, the world fell in love with Eddie, a grizzled war veteran- turned-amusement park mechanic who died saving the life of a young girl named Annie. Eddie's journey to heaven taught him that every life matters. Now, in this magical sequel, Mitch Albom reveals Annie's story.

The accident that killed Eddie left an indelible mark on Annie. It took her left hand, which needed to be surgically reattached. Injured, scarred, and unable to remember why, Annie's life is forever changed by a guilt-ravaged mother who whisks her away from the world she knew. Bullied by her peers and haunted by something she cannot recall, Annie struggles to find acceptance as she grows. When, as a young woman, she reconnects with Paulo, her childhood love, she believes she has finally  found happiness.

As the novel opens, Annie is marrying Paulo. But when her wedding night day ends in an unimaginable accident, Annie finds herself on her own heavenly journey—and an inevitable reunion with Eddie, one of the five people who will show her how her life mattered in ways she could not have fathomed.
This is due out on October 9, 2018, so add it to your Goodreads list or pre-order on Amazon.
Not that I'd ever judge a book by its cover…okay, I did! Not Our Kind by Kitty Zeldis is a must read for lovers of history. This is a gorgeous cover and I knew from the minute I saw it that I needed to read this novel. As I have mentioned before, I am drawn to New York City during the 40s/50s, strong females, Judaism, and this book has it all. I loved The Boston Girl which this has been compared to, so reading it was a no-brainer!
One rainy morning in June, two years after the end of World War II, a minor traffic accident brings together Eleanor Moskowitz and Patricia Bellamy. Their encounter seems fated: Eleanor, a teacher and recent Vassar graduate, needs a job. Patricia's difficult thirteen-year-old daughter Margaux, recovering from polio, needs a private tutor.

Though she feels out of place in the Bellamys' rarefied and elegant Park Avenue milieu, Eleanor forms an instant bond with Margaux. Soon the idealistic young woman is filling the bright young girl's mind with Shakespeare and Latin. Though her mother, a hat maker with a little shop on Second Avenue, disapproves, Eleanor takes pride in her work, even if she must use the name "Moss" to enter the Bellamys' restricted doorman building each morning, and feels that Patricia's husband, Wynn, may have a problem with her being Jewish.

Invited to keep Margaux company at the Bellamys' country home in a small town in Connecticut, Eleanor meets Patricia's unreliable, bohemian brother, Tom, recently returned from Europe. The spark between Eleanor and Tom is instant and intense. Flushed with new romance and increasingly attached to her young pupil, Eleanor begins to feel more comfortable with Patricia and much of the world she inhabits. As the summer wears on, the two women's friendship grows—until one hot summer evening, a line is crossed, and both Eleanor and Patricia will have to make important decisions—choices that will reverberate through their lives.
If you have recommendations for books like this one, let me know!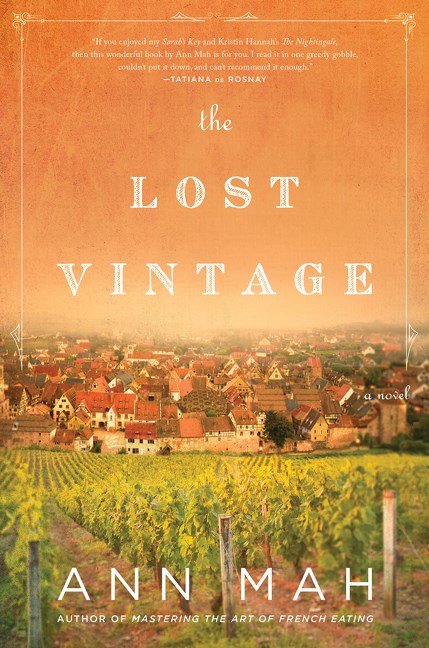 This book comes out soon- on June 19th, so get ready for a wonderfully told story by Ann Mah. The Lost Vintage combines food, wine, France and is told in a dual format which I always enjoy. You are going to have to scoot this to the top of your To-Read pile (doesn't everyone have a To-Read pile?) and settle in for a treat.
To become one of only a few hundred certified wine experts in the world, Kate must pass the notoriously difficult Master of Wine Examination. She's failed twice before; her third attempt will be her last. Suddenly finding herself without a job and with the test a few months away, she travels to Burgundy, to spend the fall at the vineyard estate that has belonged to her family for generations. There she can bolster her shaky knowledge of Burgundian vintages and reconnect with her cousin Nico and his wife Heather, who now oversee the grapes' day-to-day management. The one person Kate hopes to avoid is Jean-Luc, a neighbor vintner and her first love.

At the vineyard house, Kate is eager to help her cousins clean out the enormous basement that is filled with generations of discarded and forgotten belongings. Deep inside the cellar, behind a large armoire, she discovers a hidden room containing a cot, some Resistance pamphlets, and an enormous cache of valuable wine. Piqued by the secret space, Kate begins to dig into her family's history—a search that takes her back to the dark days of the Second World War and introduces her to a relative she never knew existed, a great half-aunt who was teenager during the Nazi occupation.

As she learns more about her family, the line between Resistance and Collaboration blurs, driving Kate to find the answers to two crucial questions: Who, exactly, did her family aid during the difficult years of the war? And what happened to six valuable bottles of wine that seem to be missing from the cellar's collection?
I feel sorry for people who don't read, there's an ocean of books out there and those who say they hate reading are truly missing out!