There are so many good books coming out this spring and summer, and even into the fall! I don't know about you but nothing makes me more excited than the anticipation of a novel that I've been longing to read! Here are some that I know you will love just as I did!
Our Little World by Karen Winn will leave you in an emotional mess. Sounds great, right? I was pulled right into the 1980s and the story of Bee, her younger sister, and a missing neighborhood child. From the first page, we know how the book is going to end, we just don't know how we are going to arrive there.
As you read, you have the anticipation hanging over you that something bad is going to happen and ultimately it does.
July 1985. It's a normal, sweltering New Jersey summer for soon-to-be seventh grader Bee Kocsis. Her thoughts center only on sunny days spent at Deer Chase Lake, on evenings chasing fireflies around her cul-de-sac with the neighborhood kids, and on Max, the boy who just moved in across the street. There's also the burgeoning worry that she'll never be as special as her younger sister, Audrina, who seems to effortlessly dazzle wherever she goes.

But when Max's little sister, Sally, goes missing at the lake, Bee's long-held illusion of stability is shattered in an instant. As the families in her close-knit community turn inward, suspicious and protective, things in Bee's own home become increasingly strained, most of all with Audrina, when a shameful secret surfaces. With everything changed, Bee and Audrina's already-fraught sisterhood is pushed to the limit as they grow up—and apart—in the wake of an innocence lost too soon.
Out on May 3.
In My Dreams I Hold A Knife by Ashley Winstead was one of my favorite books last year and I was beyond excited to get my hands on the author's newest novel, The Last Housewife. I didn't know much about the story going on….and boy, was I surprised. This was NOTHING like I expected!
I eagerly turned the pages, clueless as to how things were going to play out. I didn't know who to trust and which character was telling the truth. It was a real page turner- dark and intriguing from beginning to end.
While in college in upstate New York, Shay Evans and her best friends met a captivating man who seduced them with a web of lies about the way the world works, bringing them under his thrall. By senior year, Shay and her friend Laurel were the only ones who managed to escape. Now, eight years later, Shay's built a new life in a tony Texas suburb. But when she hears the horrifying news of Laurel's death—delivered, of all ways, by her favorite true-crime podcast crusader—she begins to suspect that the past she thought she buried is still very much alive, and the predators more dangerous than ever.

Recruiting the help of the podcast host, Shay goes back to the place she vowed never to return to in search of answers. As she follows the threads of her friend's life, she's pulled into a dark, seductive world, where wealth and privilege shield brutal philosophies that feel all too familiar. When Shay's obsession with uncovering the truth becomes so consuming she can no longer separate her desire for justice from darker desires newly reawakened, she must confront the depths of her own complicity and conditioning. But in a world built for men to rule it—both inside the cult and outside of it—is justice even possible, and if so, how far will Shay go to get it?
Coming out on August 16
This book was SO GOOD.
Blood Will Tell by Heather Chavez is about two sisters and a crime of a missing girl. Frankie suspects her sister is involved, after all, Izzy has a habit of getting herself into some precarious situations like what happened five years ago…
Schoolteacher and single mom Frankie Barrera has always been fiercely protective of her younger sister Izzy—whether Izzy wants her to be or not. But over the years, Izzy's risky choices have tested Frankie's loyalty. Never so much as on a night five years ago, when a frantic phone call led Frankie to the scene of a car accident—and a drunk and disoriented Izzy who couldn't remember a thing.

Though six friends partied on the outskirts of town that night, one girl was never seen again . . .

Now, an AMBER alert puts Frankie in the sights of the local police. Her truck has been described as the one used in the abduction of a girl from a neighboring town. And the only other person with access to Frankie's truck is Izzy.

This time around, Frankie will have to decide what lengths she's willing to go to in order to protect Izzy—what lies she's willing to tell, and what secrets she's willing to keep—because the dangerous game that six friends once played on a warm summer night isn't over yet . . .
This story was plotted out perfectly and kept me guessing. I will definitely be looking forward to more books from Heather!
Coming out on April 26
WOW this book!
It was such a fantastic read! I read It Could Be Anyone by Jaime Lynn Hendricks in record time, its one of those novels where you don't want to put it down until the last page is read! It kept me completely glued to the pages and I loved how everything unfolded. I always love a story that's set in an exotic location where any of the guests could be guilty of a crime- very Agatha Christie!
To anyone on their flight out of New York, they appear to be five best friends excited for a destination wedding in Miami. No one would guess that each of them has a reason to want the groom dead.

Trevor Vaughn, the groom in question, wooed his bride-to-be by first becoming close with her friends—which is to say that he learned all of the five's darkest, most dangerous secrets and blackmailed them into convincing Fiona to say "I do." The friends were forced to convince a doubting Fiona to go through with the wedding, no matter what, and now the charade is set to continue all the way to the altar.

Trevor has his own reasons for wanting to marry into Fiona's family, and he'll stop at nothing to make his plan a reality. But when he dies of an apparent allergic reaction at the wedding, surrounded by such close enemies, the possibility of murder isn't far behind. And for the authorities investigating the case, anyone present could be a suspect…
Expect plenty of twists and turns from this one!
Published on May 10.
FIVE STARS! I just loved Julie Clark's novel, The Last Flight so I had some high expectations for The Lies I Tell and it was just as amazing as I hoped it would be. I could not put this one down and was completely taken with the story from page 1.
Meg Williams. Maggie Littleton. Melody Wilde. Different names for the same person, depending on the town, depending on the job. She's a con artist who erases herself to become whoever you need her to be—a college student. A life coach. A real estate agent. Nothing about her is real. She slides alongside you and tells you exactly what you need to hear, and by the time she's done, you've likely lost everything.

Kat Roberts has been waiting ten years for the woman who upended her life to return. And now that she has, Kat is determined to be the one to expose her. But as the two women grow closer, Kat's long-held assumptions begin to crumble, leaving Kat to wonder who Meg's true target is.

The Lies I Tell is a twisted domestic thriller that dives deep into the psyches and motivations of two women and their unwavering quest to seek justice for the past and rewrite the future.
I know we are barely in 2022 but I think this will be one of my favorites of the whole year.
You don't want to miss this one, get it as soon as it comes out on June 21!
Another fabulous read! Never Coming Home by Hannah Mary McKinnon was my favorite of all the books I've read by this author. I gave this book five stars which I don't give out a lot. A book REALLY has to be terrific for me to give out all of those gold Goodreads stars and this earned every one of them.
Lucas Forester didn't hate his wife. Michelle was brilliant, sophisticated and beautiful. Sure, she had extravagant spending habits, that petty attitude, a total disregard for anyone below her status. But she also had a lot to offer. Most notably: wealth that only one percent could comprehend.

For years, Lucas has been honing a flawless plan to inherit Michelle's fortune. Unfortunately, it involves taking a hit out on her.

Every track is covered, no trace left behind, and now Lucas plays the grieving husband so well he deserves an award. But when a shocking photo and cryptic note show up on his doorstep, Lucas goes from hunter to prey.

Someone is on to him. And they're closing in.
You are going to love and hate the character of Lucas, an excellent villain!
Coming out on May 24
I read and loved Megan Goldin's other books so I knew when I saw Stay Awake that I had to get my hands on it immediately. She is an automatic MUST READ author for me. And this book did not let me down. It was a fast-paced story that kept me on the edge of my seat the entire way through! All I could think of was how terrifying it would be to be in Liv's shoes.
Liv Reese wakes up in the back of a taxi with no idea where she is or how she got there. When she's dropped off at the door of her brownstone, a stranger answers—a stranger who now lives in her apartment and forces her out in the cold. She reaches for her phone to call for help, only to discover it's missing, and in its place is a bloodstained knife. That's when she sees that her hands are covered in black pen, scribbled messages like graffiti on her skin: STAY AWAKE.

Two years ago, Liv was living with her best friend, dating a new man, and thriving as a successful writer for a trendy magazine. Now, she's lost and disoriented in a New York City that looks nothing like what she remembers. Catching a glimpse of the local news, she's horrified to see reports of a crime scene where the victim's blood has been used to scrawl a message across a window, the same message that's inked on her hands. What did she do last night? And why does she remember nothing from the past two years? Liv finds herself on the run for a crime she doesn't remember committing as she tries to piece together the fragments of her life. But there's someone who does know exactly what she did, and they'll do anything to make her forget—permanently.
It reminded me of the creepy and weird movie, Momento! This is another twisty novel that takes you on a wild ride and you have no idea where you are going to end up. You don't want to miss this thrilling suspense!
Out on August 29
Here's yet another winning novel for 2022, I think it may be my favorite Jennifer Hillier book so far! Things We Do In the Dark is yes, a dark story but has so many interesting elements to it that it earns a spot on my Best of 2022 list.
We have Paris, accused of murdering her much older, wealthy husband. It sure looks like she's guilty. But Paris can't afford to be charged with murder because what will happen once her past is exposed… what exactly is she hiding and why?
When Paris Peralta is arrested in her own bathroom—covered in blood, holding a straight razor, her celebrity husband dead in the bathtub behind her—she knows she'll be charged with murder. But as bad as this looks, it's not what worries her the most. With the unwanted media attention now surrounding her, it's only a matter of time before someone from her long hidden past recognizes her and destroys the new life she's worked so hard to build, along with any chance of a future.

Twenty-five years earlier, Ruby Reyes, known as the Ice Queen, was convicted of a similar murder in a trial that riveted Canada in the early nineties. Reyes knows who Paris really is, and when she's unexpectedly released from prison, she threatens to expose all of Paris's secrets. Left with no other choice, Paris must finally confront the dark past she escaped, once and for all.

Because the only thing worse than a murder charge are two murder charges.
I loved how Jennifer constructed the story and the twists and turns kept me fully engaged in what was happening with Paris. A definite must-read for those who love suspense, thrillers, and mysteries!
Coming out on July 19
I just loved Samantha M. Bailey's first novel, Woman on the Edge so I had a feeling that I would like her second, Watch Out For Her and it did not disappoint! Another page turning, twisty, suspense-filled story with a duel timeline, interesting characters, and a tight plot with absolutely zero boring parts. Don't you hate when you are reading a good book but its bogged down with some chapters that slow down the story? Well, none of that here!
Sarah Goldman, mother to six-year-old Jacob, is relieved to move across the country. She has a lot she wants to leave behind, especially Holly Monroe, the pretty twenty-two-year-old babysitter she and her husband, Daniel, hired to take care of their young son last summer. It started out as a perfect arrangement—Sarah had a childminder her son adored, and Holly found the mother figure she'd always wanted. But Sarah's never been one to trust very easily, so she kept a close eye on Holly, maybe too close at times. What she saw raised some questions, not only about who Holly really was but what she was hiding. The more Sarah watched, the more she learned—until one day, she saw something she couldn't unsee, something so shocking that all she could do was flee.

Sarah has put it all behind her and is starting over in a different city with her husband and son. They've settled into a friendly suburb where the neighbors, a tight clique of good citizens, are always on the lookout for danger. But when Sarah finds hidden cameras in her new home, she has to wonder: Has her past caught up to her, and worse yet, who's watching her now?
SO GOOD! And I am already excited for whatever Samantha writes next!
This is out on April 19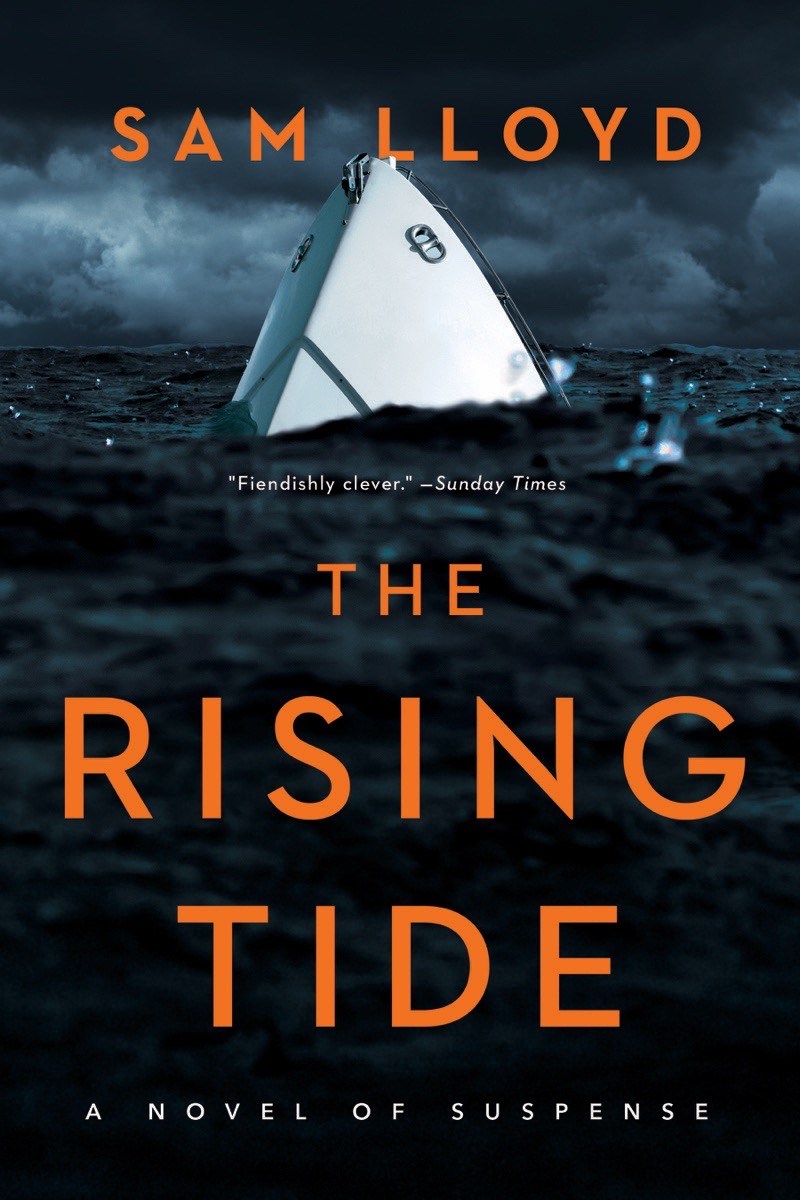 I knew from the brief description that I needed to read The Rising Tide by Sam Lloyd.
Check it out:
In a small fishing village on the Devon coast, Lucy Locke has built a life that anyone would envy. She and her husband, Daniel, own successful businesses and live with their two children in a picturesque home overlooking the harbor. But everything changes one morning when, following a monumental storm, the family yacht is found empty — and Lucy's husband is nowhere in sight.

As the search for Daniel mounts, so does Lucy's sense of dread, raised to a fever pitch when another, more terrifying revelation pushes her storybook life to the brink of total destruction. Lucy is reluctantly forced to face a harsh truth: the sea gives life, and just as quickly takes it away. And when the detective on the case uncovers suspicious details that Lucy had hoped would stay buried, she'll have to confront the nightmarish possibility that she created her own undoing.
This was a FIVE STAR read. It was so atmospheric, you can easily imagine yourself in the small village where the story takes place. And when the storm rages and the waves swell, you can nearly feel the spray on your face and the damp, biting chill in the air.
The Rising Tide is an excellent thriller, full of twists and rich in detail, with surprises and cliffhangers. I was almost holding my breath a few times, nervous about what would happen next.
Sometimes a book is really good and an author can plot out an amazing story, sometimes the story isn't great but the writing and sentence structure is exquisite and sometimes, an author is able to craft beautiful descriptions, weave an intense plot and keep you on your toes, that's what Sam Lloyd does in this novel!
Out on June 24!
What a perfect setting, a blizzard in the middle of nowhere!
In The Overnight Guest, Heather Gudenkauf writes about an author who goes to a farmhouse away from everything so she can work on her book. Sounds lovely, right? However many years ago, the farmhouse was the setting for a murder and someone disappeared from the house on that night. Right away, I'd say NO THANKS to any offer of staying in such a place. But Wylie Lark doesn't mind!
When a snowstorm turns into a blizzard, she's literally trapped in this isolated place far from another human being. And then she finds a child in the snow outside and that when things get creepy.
True crime writer Wylie Lark doesn't mind being snowed in at the isolated farmhouse where she's retreated to write her new book. A cozy fire, complete silence. It would be perfect, if not for the fact that decades earlier, at this very house, two people were murdered in cold blood and a girl disappeared without a trace.

As the storm worsens, Wylie finds herself trapped inside the house, haunted by the secrets contained within its walls—haunted by secrets of her own. Then she discovers a small child in the snow just outside. After bringing the child inside for warmth and safety, she begins to search for answers. But soon it becomes clear that the farmhouse isn't as isolated as she thought, and someone is willing to do anything to find them.
This book was another terrific story from Heather. Her books are all really good, if you haven't read any, get one or all and start reading! This is out now!
I've been a fan of author Lucy Clarke going back about ten years when I read and loved her novel, Swimming at Night.  Last year I devoured The Castaways, and more recently I read One of the Girls which did not disappoint.
Again, this is a trope I love; different people on a trip somewhere exotic then something bad happens and we are taken on a ride to determine who did it and why.
In this book, we have various characters each with their own POV and a personal agenda. I loved the beauty of  Aegos as the backdrop.  You think nothing could happen during such a happy time in a gorgeous place but of course, it does.
It was supposed to be the perfect weekend away. Six very different women travel to a sun-soaked Greek island for a bachelorette trip, to celebrate Lexi's upcoming wedding. From the glorious ocean views to the quaint tavernas and whitewashed streets, the vacation seems too good to be true. But dangerous undercurrents run beneath the sunset swims and midnight cocktails – because each of the women is hiding a secret. Someone is determined to make sure that Lexi's marriage never happens – and that one of them doesn't leave the island alive.

Gripping, twisty, and full of sun-soaked suspense, this timely thriller examines the joys of female friendship…as well as the deadly consequences when a relationship goes wrong.
Grab Lucy's other suspense novels while you wait for this one to come out! All of her books are fantastic.
One of the Girls will be out on June 28.