From reading the description of The Orphan Sisters by Shirley Dickson, I knew I had to get my hands on this novel.  This is one of those books you will sit and read within one afternoon, preferably a chilly, rainy afternoon where you can drink hot tea and cuddle up with a soft blanket. That's my preferred reading scenario!
Here's what you need to know:
1929: Four-year-old Etty and eight-year-old Dorothy are abandoned at Blakely Hall orphanage by their mother, never to see her again. With no other family to speak of, the sisters worship their beloved mam – confused and heartbroken to be deserted by her when they need her the most.

1940: Etty and Dorothy are finally released from the confines of Blakely Hall – but their freedom comes when the country is in the grip of World War Two and its terrors. Amidst a devastating backdrop of screaming air-raid sirens and cold nights huddled in shelters, the sisters are desperate to put their broken childhoods behind them.

But trouble lies ahead. Dorothy must bid goodbye to her beloved husband when he's sent to war and Etty must nurse a broken heart as she falls in love with the one man she can never be with.

Etty and Dorothy survived the orphanage with the help of one another and neither sister can forget the awful betrayal of their mother, which has haunted them their whole lives. But when a shocking secret about their painful childhood comes to light, will the sisters ever be the same again?
This one promises to keep you turning pages as your heart attempts not to break. A book you will lose yourself in!
Due out on January 22, 2019.
The Forgiving Kind by Donna Everhart is at the top of my TO-READ list. I love fiction like this one. It takes place in North Carolina during the 1950s and I can't think of a better time or place for a story about a young girl on a cotton farm during the summer.
I do love a dark, twisty thriller and can't get enough of stories that keep me on the edge of my seat but in between the creepy books, I want to read something new and different like The Forgiving Kind.
For twelve-year-old Martha "Sonny" Creech, there is no place more beautiful than her family's cotton farm. She, her two brothers, and her parents work hard on their land—hoeing, planting, picking—but only Sonny loves the rich, dark earth the way her father does. When a tragic accident claims his life, her stricken family struggles to fend off ruin—until their rich, reclusive neighbor offers to help finance that year's cotton crop.

Sonny is dismayed when her mama accepts Frank Fowler's offer; even more so when Sonny's best friend, Daniel, points out that the man has ulterior motives. Sonny has a talent for divining water—an ability she shared with her father and earns her the hated nickname "water witch" in school. But uncanny as that skill may be, it won't be enough to offset Mr. Fowler's disturbing influence in her world. Even her bond with Daniel begins to collapse under the weight of Mr. Fowler's bigoted taunts. Though she tries to bury her misgivings for the sake of her mama's happiness, Sonny doesn't need a willow branch to divine that a reckoning is coming, bringing with it heartache, violence—and perhaps, a fitting and surprising measure of justice.
The early reviews are absolutely glowing. I am so eager to sit down and do nothing else but read all day!
January 29, 2019.
Just started The Couple on Cedar Close by Anna-Lou Weatherley. It's is suspenseful and a little dark, I am curious about which direction the story will take the reader…
Cedar Close has always been a nice place to live – a quiet suburban street where everyone looks out for one another and bad things don't happen. Until late one evening, when Robert Mills is found dead in his bedroom. Downstairs, in their beautiful kitchen, his wife Laurie sits alone in the dark with her head in her hands. She can't remember the last few hours, but she knows she didn't kill Robert. The trouble is, no-one believes her.
The book begins with a woman drinking too much, passing out and waking to find blood all over her and her husband, dead.  If that's not an explosive start to catch your attention, I don't know what is.  Though she has no recollection of what happened, its obvious that she committed the crime, or did she?
I am looking forward to delving further into this book! So far, so good.
January 18, 2019.
Her Pretty Bones by Carla Kovach was really good. I was hooked from the first page and the story kept me engaged the whole way through.
A young woman falls from a van speeding down a quiet road. Battered and bruised, she turns her head to the person who comes to her aid. 'Help her', she whispers before her eyes close. Days later, the body of another young girl is found in a shallow grave just a few miles away. The similarities between the two girls are startling – same age, same frail body, same shocking red hair.
As the town fears there's a serial killer living amongst them, Detective Gina Harte must put aside her own struggles at home, and catch the killer before he finds another perfect girl.
Typically I don't love books that are series, I didn't realize this was one of three stories about Detective Gina Harte, but it was such an intense read that I may have to read the other books!  A young woman falls from the back of a van on a road in England and her life hangs in the balance as she is in a coma in the hospital. Who is she? Where did she come from? Why are her fingerprints burned from her skin? And what did she mean when she whispered, "Help her…" Help WHO? The girl is in terrible shape and barely alive, what happened to her?
This kicks off an intense search for the girl's identity as well as that of the girl she mentioned.  When the bones of a girl are found in a grave, the search intensifies. Are the two young women linked? Detective Gina Harte must put the pieces together and figure out the answers to all the questions.
Her Pretty Bones was a fantastic thriller/suspense that kept me reading and turning pages quickly. I highly recommend this one for those who love a good mystery and those who have read the other books in the Gina Harte series.
Due out January 17, 2019.
I absolutely loved One of Us is Lying, the first book by Karen McManus. I remember reading the entire novel on a flight when the book first came out. If you haven't read it, do so right now! It's a great book and I was guessing until the end and I liked how it all played out. Sometimes you read a mystery or suspense and the ending falls flat, don't you hate that?
I don't read a ton of YA fiction but I will read something that's a thriller, a page-turner that keeps me up late at night. Recently I read Sadie by Courtney Summers and in the past, I enjoyed Thirteen Reasons Why and The Fault in Our Stars.
When we wrote The Blondes of Bel Air, my co-author and I immediately knew the story had to be a YA with two spoiled teenagers at the center of a murder.  If you have read a suspenseful YA that I must read, let me know!
About Two Can Keep A Secret:
Echo Ridge is small-town America. Ellery's never been there, but she's heard all about it. Her aunt went missing there at age seventeen. And only five years ago, a homecoming queen put the town on the map when she was killed. Now Ellery has to move there to live with a grandmother she barely knows.

The town is picture-perfect, but it's hiding secrets. And before school even begins for Ellery, someone's declared open season on homecoming, promising to make it as dangerous as it was five years ago. Then, almost as if to prove it, another girl goes missing.

Ellery knows all about secrets. Her mother has them; her grandmother does too. And the longer she's in Echo Ridge, the clearer it becomes that everyone there is hiding something. The thing is, secrets are dangerous–and most people aren't good at keeping them. Which is why in Echo Ridge, it's safest to keep your secrets to yourself.
I am very excited to start this book. I expect some plot twists and a story that will probably keep me reading straight into the wee hours of the morning.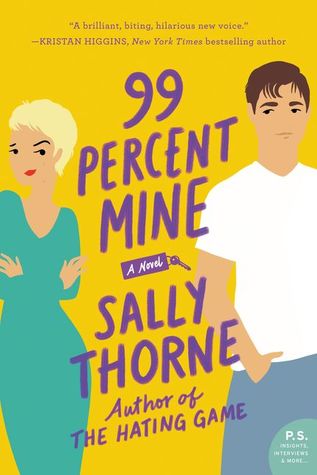 I read and loved Sally Thorne's novel, The Hating Game. I remember stumbling upon it and being pleasantly surprised at how good it was. Sometimes I will read romance/ women's fiction and it's fluffy and not too deep earning that "chick lit" label (not always a bad thing) with a shallow storyline but The Hating Game was really fun and witty and clever. So it was with great anticipation that I began 99 Percent Mine.
I liked this book but I didn't LOVE it. The main character is a tough-talking bartender who has not stayed long in one place, she tends to flee when things get too hard. Now she is renovating her beloved grandma's home so she and her twin brother can sell it. She's in town for a while but searching for her lost passport so she can eventually leave town.
Up until now, Darcy has not allowed herself to be vulnerable and in love but with the return of her childhood friend Tom, everything is thrown off balance. Tom has been hired to do the work at grandma's cottage. Darcy knows she is in love with him which sets her on edge. She isn't quite sure how to let him know her feelings but she constantly laments on how amazing he is, how handsome, he's a big man with strong hands, he's just the perfect guy in every way and Darcy is driving herself crazy with how in love she is. It drove me a little crazy too since there's a ton of internal dialogue going on about Tom. The reader knows he feels the same way about her so I kept reading hoping the two would finally get together already!
Here's what you need to know: 
Darcy Barrett has undertaken a global survey of men. She's travelled the world, and can categorically say that no one measures up to Tom Valeska, whose only flaw is that Darcy's twin brother Jamie saw him first and claimed him forever as his best friend. Despite Darcy's best efforts, Tom's off limits and loyal to her brother, 99%. That's the problem with finding her dream man at age eight and peaking in her photography career at age twenty—ever since, she's had to learn to settle for good enough.

When Darcy and Jamie inherit a tumble-down cottage from their grandmother, they're left with strict instructions to bring it back to its former glory and sell the property. Darcy plans to be in an aisle seat halfway across the ocean as soon as the renovations start, but before she can cut and run, she finds a familiar face on her porch: house-flipper extraordinaire Tom's arrived, he's bearing power tools, and he's single for the first time in almost a decade.

Suddenly Darcy's considering sticking around to make sure her twin doesn't ruin the cottage's inherent magic with his penchant for grey and chrome. She's definitely not staying because of her new business partner's tight t-shirts, or that perfect face that's inspiring her to pick up her camera again. Soon sparks are flying—and it's not the faulty wiring. It turns out one percent of Tom's heart might not be enough for Darcy anymore. This time around, she's switching things up. She's going to make Tom Valeska 99 percent hers.
I liked Darcy's snarky comments and her funny observations, the book is well written and I am sure that fans of romance and beach reads will adore this book! Perfect if you want something that's light and fun.
Due out January 29, 2019.