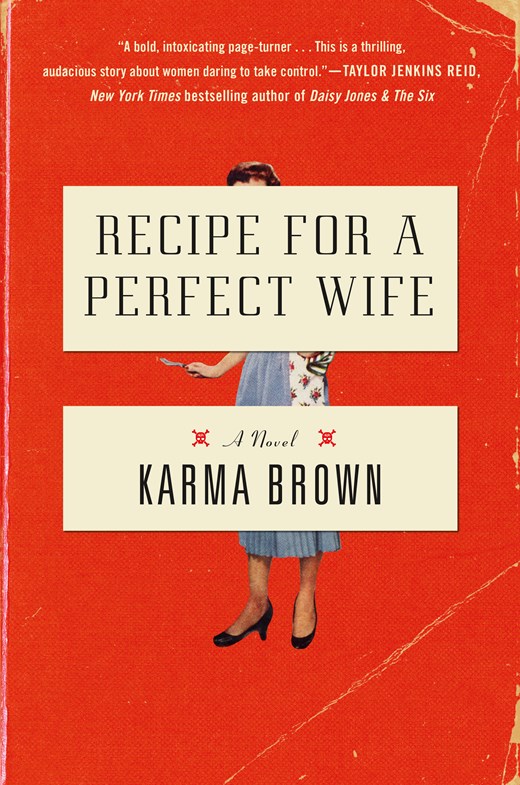 Karma Brown is a hugely popular author and I am so excited to read Recipe for a Perfect Wife. If you haven't read her books, start with The Choices We Make which is only $4.99 on Kindle right now.
Judging this book by its cover- which you should never do- I know I'm going to enjoy this one. Nothing makes me happier than a good book with an intriguing plot.
Doesn't this sound like a must-read? We are all going to devour this novel, check it out:
When Alice Hale leaves a career in publicity to become a writer and follows her husband to the New York suburbs, she is unaccustomed to filling her days alone in a big, empty house. But when she finds a vintage cookbook buried in a box in the basement, she becomes captivated by the cookbook's previous owner—1950s housewife Nellie Murdoch. As Alice cooks her way through the past, she realizes that within the cookbook's pages, Nellie left clues about her life—including a mysterious series of unsent letters penned to her mother.

Soon Alice learns that while baked Alaska and meatloaf five ways may seem harmless, Nellie's secrets may have been anything but. When Alice uncovers a more sinister—even dangerous—side to Nellie's marriage, and has become increasingly dissatisfied with the mounting pressures in her own relationship, she begins to take control of her life and protect herself with a few secrets of her own.
Vintage cookbook, 1950's, dual timelines? I'M IN!
Due out on January 21, 2020
I've long been a fan of Diane Chamberlain's novels. There are just too many to list here but my favorites include The Stolen Marriage and Necessary Lies, you really can't go wrong with any of her books.
2020 brings us her newest, Big Lies in a Small Town. Here's the scoop:
North Carolina, 2018: Morgan Christopher's life has been derailed. Taking the fall for a crime she did not commit, she finds herself serving a three-year stint in the North Carolina Women's Correctional Center. Her dream of a career in art is put on hold—until a mysterious visitor makes her an offer that will see her released immediately. Her assignment: restore an old post office mural in a sleepy southern town. Morgan knows nothing about art restoration, but desperate to leave prison, she accepts. What she finds under the layers of grime is a painting that tells the story of madness, violence, and a conspiracy of small town secrets.

North Carolina, 1940: Anna Dale, an artist from New Jersey, wins a national contest to paint a mural for the post office in Edenton, North Carolina. Alone in the world and desperate for work, she accepts. But what she doesn't expect is to find herself immersed in a town where prejudices run deep, where people are hiding secrets behind closed doors, and where the price of being different might just end in murder.

What happened to Anna Dale? Are the clues hidden in the decrepit mural? Can Morgan overcome her own demons to discover what exists beneath the layers of lies?
This will be published in January 2020.
You probably know author B.A. Paris from her novels, The Breakdown, Bring Me Back, and Behind Closed Doors. I highly recommend all of them!
Her newest thriller The Dilemma sounds like it's going to be another page-turner:
It's Livia's fortieth birthday and tonight she's having a party, a party she's been planning for a long time. The only person missing will be her daughter, Marnie.

But Livia has a secret, a secret she's been keeping from Adam, her husband until the party is over. Because how can she tell him that although she loves Marnie, she's glad their daughter won't be there to celebrate with her? Adam is determined everything will be just right for Livia and the party is going to be perfect… until he learns something that will leave him facing an unbearable decision
Due out January 23, 2020
I was very impressed with Catherine Steadman's debut Something in the Water and I have high hopes that her next book Mr. Nobody will be equally as intriguing. It offers a solid plot and room for lots of twists and turns.
Synopsis:
When a man is found on a British beach, drifting in and out of consciousness, with no identification and unable to speak, interest in him is sparked immediately. From the hospital staff who find themselves inexplicably drawn to him, to international medical experts who are baffled by him, to the national press who call him Mr. Nobody, everyone wants answers. Who is this man? And what happened to him?

Some memories are best forgotten.

Neuropsychiatrist Dr. Emma Lewis is asked to assess the patient in a small town deep in the English countryside. This is her field of expertise, this is the chance she's been waiting for, and this case could make her name known across the world. But therein lies the danger. Emma left this same town fourteen years ago and has taken great pains to cover all traces of her past since then.

Places aren't haunted . . . people are.

But now something—or someone—is calling her back. And the more time she spends with her patient, the more alarmed she becomes that he knows the one thing about her that nobody is supposed to know.
I am really excited about this one, it comes out on January 7, 2020
Mary Kubica is another author whose books I always read and enjoy. I got a sneak peek of The Other Mrs. and I can tell you that its very good. Clear your schedule when this comes out so you can sit and read all day and into the night.
This book kept me wondering who was guilty. Who can the reader trust? There were so many directions the story could go in! I liked the setting of Maine, it was the perfect spot to plant a thriller.
Sadie and Will Foust have only just moved their family from bustling Chicago to small-town Maine when their neighbor, Morgan Baines, is found dead in her home. The murder rocks their tiny coastal island, but no one is more shaken than Sadie, who is terrified by the thought of a killer in her very own backyard.

But it's not just Morgan's death that has Sadie on edge. It's their eerie old home, with its decrepit decor and creepy attic, which they inherited from Will's sister after she died unexpectedly. It's Will's disturbed teenage niece Imogen, with her dark and threatening presence. And it's the troubling past that continues to wear at the seams of their family.

As the eyes of suspicion turn toward the new family in town, Sadie is drawn deeper into the mystery of Morgan's death. But Sadie must be careful, for the more she discovers about Mrs. Baines, the more she begins to realize just how much she has to lose if the truth ever comes to light.
Mark this To Read and pre-order now, it will be published on February 18, 2020.
Mary Kubica's Pretty Baby was an excellent novel and its $4.99 on Kindle. That's a great price- cheaper than a movie ticket and way better than a Venti frappucino.
Isabel Allende is a wonderful author, I have been reading her books for years now. If you haven't read anything by this author, cancel all your appointments and get a copy of Maya's Notebook, one of my favorites.
Her new novel, A Long Petal of the Sea is coming out next winter and its going to be good.
Check out the plot here: 
In the late 1930s, civil war gripped Spain. When General Franco and his Fascists succeed in overthrowing the government, hundreds of thousands are forced to flee in a treacherous journey over the mountains to the French border. Among them is Roser, a pregnant young widow, who finds her life irreversibly intertwined with that of Victor Dalmau, an army doctor and the brother of her deceased love. In order to survive, the two must unite in a marriage neither of them wants, and together are sponsored by poet Pablo Neruda to embark on the SS Winnipeg along with 2,200 other refugees in search of a new life. As unlikely partners, they embrace exile and emigrate to Chile as the rest of Europe erupts in World War.

Starting over on a new continent, their trials are just beginning. Over the course of their lives, they will face test after test. But they will also find joy as they wait patiently for a day when they are exiles no more, and will find friends in the most unlikely of places. Through it all, it is that hope of being reunited with their home that keeps them going. And in the end, they will find that home might have been closer than they thought all along.
It sounds deep and detailed and historical! This is a book that I will need lots of time to really soak up and enjoy every beautifully written chapter.
Coming out on January 21, 2020.
Gigi Levangie's books are all great, funny and witty and they leave you wishing you were Gigi's BFF so you could dish on real-life stuff together over cocktails.  She has written several books but my favorite was The After Wife. There was something so bittersweet about this one, I really loved it. You can't go wrong with any of her books.
I was super excited to see her new novel Been There, Married That is coming out on February 11, 2020. I already know it's going to be hilarious with shades of glamour and fun Hollywood insider details.
Check it out: 
Agnes Murphy Nash is the perfect Hollywood wife – she has the right friends, the right clothes, and even a side career of her own as a writer. Her husband Trevor is a bigshot producer, and from the outside it looks like they're living a picture-perfect celebrity life, complete with tennis tournaments and lavish parties.

But the job description of a Hollywood wife doesn't cover divorce, which is the way Agnes' life is headed after she comes home one day to find her credit cards cancelled and the security passwords to get into her enormous LA home changed. Oh, and there's a guy there whose job it is to tase her if she tries to enter…which she does. Needless to say, Agnes' husband is dead set on making sure she loses big time, but Agnes isn't the type to just lie down and take it. In a world of fremenies and hot nannies, personal psychics and "skinny" jello shots, Agnes may be losing her husband, but could that mean getting her own life back?
Pre-Order now so you can have it in your hands by time Valentines Day rolls around!
When I find an author whose books I really enjoy, I am eager and anxious to get my hands on whatever they are writing next. Sometimes I am friends with an author whose books I love and I will offer to read and give feedback before the book goes to press. This is really the perfect scenario for me because then I not only get a sneak peek but I get to brainstorm with the author and give my two cents.
Here's an embarrassing but true story- I followed a popular author on Instagram and when she was writing her last novel and lamenting over some plot issues, I sent her a message that I'd love to read/give feedback on her work in progress. This author completely ignored me and I felt stupid. When I read that Caroline Kepnes was writing another book based on her thriller YOU, I wanted to offer to be a beta reader but alas, I stopped myself from contacting her. Fear of rejection looms large even when you are an adult with many years of adulting under your belt.
When I read that Peter Swanson had a new book coming out, I was beyond excited! I NEEDED to read this one so I could talk about it here and let you know if it was worth pre-ordering and lo and behold, YES IT'S SO GOOD. 
Like his other books, (The Kind Worth Killing was excellent, read it this minute!) Eight Perfect Murders keeps you on the edge of your seat from beginning to end. You will be drawing conclusions (you will be wrong) and wondering how he's going to tie up the loose ends.
I admire writers who can make the chapters flow smoothly yet keep the reader interesting from start to finish.
I thought the plot was brilliant and the execution of the idea was flawless. I can visualize this as a movie or television show, it would be a really good series.
Here's what you need to know:
Years ago, bookseller and mystery aficionado Malcolm Kershaw compiled a list of the genre's most unsolvable murders, those that are almost impossible to crack—which he titled "Eight Perfect Murders"—chosen from among the best of the best including Agatha Christie's A. B. C. Murders, Patricia Highsmith's Strangers on a Train, and Ira Levin's Death Trap.

But no one is more surprised than Mal, now the owner of the Old Devils Bookshop in Boston, when an FBI agent comes knocking on his door one snowy day in February. She's looking for information about a series of unsolved murders that look eerily similar to the killings on Mal's old list. And the FBI agent isn't the only one interested in this bookseller who spends almost every night at home reading. There is killer is out there, watching his every move—a diabolical threat who knows way too much about Mal's personal history, especially the secrets he's never told anyone, even his recently deceased wife.

To protect himself, Mal begins looking into possible suspects . . . and sees a killer in everyone around him. But Mal doesn't count on the investigation leaving a trail of death in its wake. Suddenly, a series of shocking twists leaves more victims dead—and the noose around Mal's neck grows so tight he might never escape.
This will be out in March 2020, so you have something to look forward to.  I tend to get really excited about books that are due out in the future.
Here are some more to put on your TO READ IN 2020 list:
2019 was an amazing year for good books and 2020 promises to be just as terrific.
Stay tuned for two of my own novels coming out!